If I told you it all starts with the right calorie intake to lose weight but
without the second principle you still won't get what you want, you'd
definitely be interested in hearing more wouldn't you?
If I told you that following two simple principles could get you the body
that you've always wanted, you'd probably think I wasn't being totally honest
with you.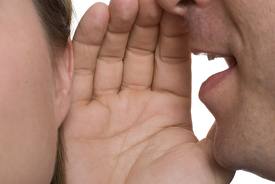 What if I told you that these two principles don't cost you
any money and you're probably already familiar with them, but perhaps you haven't
truly understood their power?
Imagine… all this time, the keys to the body you've always
wanted have been right under your nose.
Every
time you deprived yourself of good food, every ounce of sweat you produced and
every pound you spent on diet books…
All that effort was to achieve an end result right?  It's not like this stuffs fun to do, it's far
more satisfying to induce a carb coma or destroy a tub of Ben & Jerry's
Baked Alaska!
So you did it for a reason but if your sacrifice didn't give you the results you wanted then this
article is definitely for you.
It means you might have been overlooking one of the two
principles.
The truth is, it's probably not your fault. 
We live in a world of unimaginable volumes of instant
information and "next-best-thing" marketing and it's all too easy to spend years getting caught up looking for the
"secret to fat loss".  The problem
is, it's not until years later you realise it's largely all been for nothing
and that's really depressing.
Well, there is still hope for you I promise – We just need
to take things back to basics.
I'm a strong believer in finding the smallest changes that
can deliver the greatest results and these two principles do exactly that.
The "calorie intake to lose weight" principle is the first and that's exactly what we're going to discuss today.
Read on and I'll explain how they can tighten up
any wobbly bits and leave you lean and healthy looking…
---
Principle #1 – Calories Are Everything Whether You Like It or Not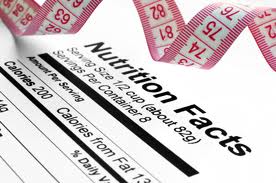 Forgive the harshness of the headline but I'm sick of people
trying to get around the fact that calories dictate weight.
Every diet in the world from Weight Watchers to Lighter Life
through to less conventional diets such as Ketogenic diets (Atkins) and
Intermittent Fasting all observe the calorie rule.
They know that manipulating your calorie intake to lose weight is essential.
They might have their own systems or rules to make it easier
for you to follow but they all try to get you to eat less calories than you eat
now:
Weight
Watchers – Uses a points system to get you to eat fewer calories
Atkins/Ketogenic
Diets – Gets you to cut out an entire food group (carbs) to get you to eat
fewer calories
Lighter
Life – Specific meals and a strict meal plan which has the calories taken
into account already
Get my point?  No
matter how clever the system is they all have the same process in mind –
reducing calorie intake to lose weight.
Where I differ from others perhaps is that I prefer to
simply track calories because I believe it gives you far more flexibility and
is often more tailored to you and your body. 
It's surely better to have the diet fit your circumstances
rather than trying to squeeze your circumstances into a rigid
"one-size-fits-all" diet system.
The only way a "one-size-fits-all" diet program can work for everybody is by giving dieters a super low calorie intake to lose weight.  If you give anybody 500 calories a day they're going to lose weight but is it sustainable in the long term?
Most of the time you sacrifice long term results when you chase the easy program. 
Just accept that you have to track calorie intake to lose weight and get on with it. 
You're body and your taste buds will thank you and you won't have to live on powdered meals from a packet for the rest of your life!
---
The Easiest Way To Track Calories
I find MyFitnessPal is the best way to track
calories.  It can be accessed online or on your smart phone or tablet and it already has most of the foods you eat
stored within its massive database which contains over 2 million foods!
The database is user-generated so it's rare that you can't
find your meal in there but if you can't you simply add it yourself and help
others out with your contribution.
The best feature for me is the barcode scanning function using the camera on your smart phone, you simply scan the barcode and enter how much of the meal you ate and you're done!
Easy as pie. 
Take the time to monitor your calorie intake to lose weight; remember you can't manage what you can't measure!
---
What
You Must Understand About Calories & Fat Loss
Bottom
line: calories are everything.
To elaborate a little more we need to revisit the calories in
v.s. calories out equation.
To help you understand this section, allow me to explain the
different factors which are at play here:
1.      Maintenance Calories – The number
of calories your body needs each day to operate its essential processes
(breathing, digestion, repairing muscles damaged by exercise etc).  Consuming this many calories per day means
your weight remains the same.
2.      Calories In – The food and drinks you consume
provide your body with energy. In the example below the person consumed 2000
calories.
3.      Calories Out – The energy you burn through
activity and exercise.  In the example
the person burned 400 calories.
4.      Net Calories – The overall number of calories left
in a single day after you deduct the calories you burned from the calories you
ate.  In this case, the person ate 2000
calories, but burned 400 calories so the net calories consumed was 1600
calories.  1600 calories would be a sufficient calorie intake to lose weight for this person.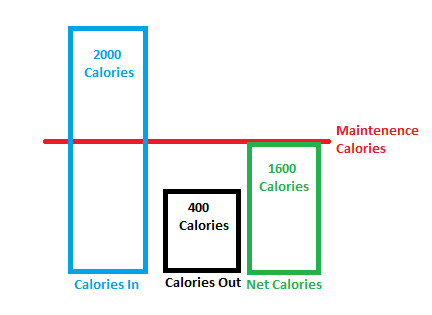 The Important
Bit
As discussed, the red line above represents the number of calories you
can consume in a single day to maintain
your current weight.
So your calorie intake to lose weight…
 

must be less
 than this number

To avoid gaining weight…
Don't eat
more than this number
I know this is basic stuff but you wouldn't believe how many
people ignore the importance of tracking calories and their weight loss actually turns into weight
gain!
Exercising frantically and suffering through "diet food" is
bad enough if you stay the same weight but its crushing if it leads to weight
gain!
I call this the "Hamster in the Wheel" syndrome and it is the
cause of much despair and hopelessness.
You can avoid all than by simply tracking calories and making
sure your daily net calories are less than your maintenance calorie level.
The first step in any successful body transformation is always regulating calorie intake to lose weight and being consistent with it.

---
Calculating
Your Maintenance Calories in One Quick Step
There are many different formulas and ways to calculate your
maintenance calorie level but I've always used and preferred a simpler approach
which has worked just fine.
I simply take my current bodyweight in pounds and multiply it
by 15, e.g. if I weigh 175 pounds x 15 = 2625 calories per day.
I could consume 2625 calories per day and maintain my current
weight.
I use 15 as the multiplier but finding your maintenance can
be done with any multiplier from 13 – 17 depending on your circumstances.  I use 15 as its smack, bang in the middle.
If you're not sure which to use the below should help:
13 – 14 – Used for
females, older people, less active or those with "slow metabolism"
15 – Late 20's –
30's males, moderately active, "regular metabolism"
16 – 17 – Males,
younger, more active or those with a "fast metabolism"

Don't fret over this; just pick the number that best fits your
description.  You will need to eat this
many calories for 2 weeks whilst tracking your weight anyway – that will tell
you your true maintenance better than even the most advanced formula could.
If after two weeks your over weight has reduced you're
maintenance calories are too low, if it's stayed the same its 100% correct and
if it's gone up your number is too high.
Simple, right?
---
Actions & Next Steps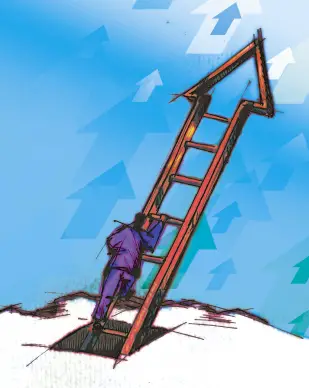 OK so let's
recap where we are now and what you need to go next.
We've recapped on the importance of calorie intake to lose weight and you now understand that it is the most important aspect – the key
to winning the game if you like.
You also now know your estimated maintenance calorie level.  You now have three choices:
Eat at your
maintenance calorie level for two weeks whilst tracking your weight once per
week (at the same time on the same day each week e.g. Friday AM before eating
and after using the toilet) and establish if you're maintenance level is
correct
Trust that
your maintenance calorie level is OK and go straight into dieting for fat
loss.  You can do this by eating 500
calories under your
maintenance level each day and do this for two weeks weighing yourself as described
in option 1
You can read

part 2 of this series (coming soon)

and be sure you've got principle two covered
and then build your bullet-proof fat loss diet and guarantee you lose
fat.  This is the best option because it
will also guarantee that the weight you lose is pure fat and that you're body
gets tighter not just smaller.
 
Whatever you decide to do, do it now and keep up the momentum
you've gained by reading this article. 
Nothing changes without something moving and that thing is
you so get onto it right now and get moving!