Discover celebrity workout and diet secrets Hollywood A-listers use to get in their best ever shape quickly!
Their exact workout and diet plans are catalogued on this page, taken from their own words and those of the trainers who devised the programs.
We also look at their individual workout plans in detail and see if "regular" people like us can gain anything by using the same strategies they used.
---
Getting Lean and Mean For The Silver Screen!
Celebrities need to have the hottest bodies to be in with a chance of landing leading roles, so much so that it can be the deciding factor during casting.
It's for this reason that they hire the best personal trainers, nutritional consultants and even their own personal chefs!
Having the best help on hand definitely makes a difference as no matter what; they get in shape on time, every time!
Think of all the iconic images from your favourite films, here's some of the most memorable:
Sylvester Stallone training hard in Rocky
Will Smith in Ali or doing chin ups in I am Legend
Gerard Butler and his ripped Spartan army in 300
Brad Pitt's lean physique in Fight Club
Taylor Lautner's powerful looking body in Twilight New Moon
Ryan Reynolds's amazing condition in Blade Trinity
Daniel Craig emerging from the sea in Casino Royale
It's understandable that people want to know the workout plan they used as they get in amazing shape very quickly!
The results speak for themselves, but will you get comparable results by following the same workout plan?
Let's take a look at the workout, diet and supplement plans used by the Hollywood elite…
Ryan Reynolds Workout Plan For Blade Trinity
The Ryan Reynolds Workout & Diet That Got Him Ripped For Blade Trinity Uncovered!
If you've seen Blade Trinity you'll have noticed Ryan Reynolds looking ripped!
Discover how he achieved his all time best condition with the Ryan Reynolds Celebrity Workout and Diet plan!
This article is based on interviews Ryan did after the movie so you get to hear how he did it, in his own words!
Show Me How Ryan Got in THAT Shape!





The Real 300 Workout Routine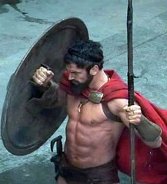 The 300 Workout Routine Which Turned Mere Men Into Spartans!
How ripped did Gerard Butler and Co look in 300?
Well believe me they worked for it! As far as celebrity workouts go, this was possibly the toughest I've ever heard of!
Find out exactly how the cast workout out from the man who devised the workout plan!
Show Me How To Get A Spartan Body!



---
Return from Celebrity Workouts to the Homepage