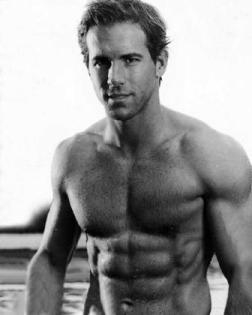 Discover how Ryan Reynolds achieved his all time best condition with the Ryan Reynolds Workout and Diet plan! If you've seen Blade Trinity you'll have noticed Ryan looking ripped!
Ryan Reynolds workout and diet plan got him ripped in Blade Trinity and after seeing the film I needed to know how he did it!
He looked awesome! Surely he had a Hollywood trainer and a chef to cook meals for him, that's a given. But I wanted to know how he was working out and what he was eating to see if any of it could be applied to a busy man like me.
After some time I came across an interview Ryan did in Muscle & Fitness magazine where he spoke about his training plan and eating habits during the time that got him in THAT shape!
I think it's fair to say that any of us would love to have the physique he sports in that film, muscular but lean and athletic.
So just how did he get that body?
---
Background
Before shooting Blade Trinity Ryan had 5 months to gain a heap of muscle and get lean enough for it to show. The rumours are that he gained 20 lbs of muscle and got his body fat to 3%, I'm sceptical his body fat really was that low as even competitive bodybuilders struggle to hold 3% for more than a few days. His true body fat was probably nearer to 5%, even so, it was low enough to show the muscle beneath and boy did he look good for it!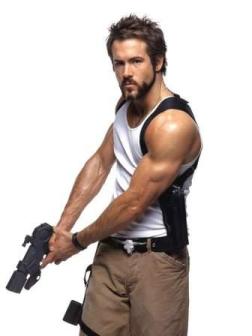 Ryan Reynolds Workout
Ryan's workout schedule in the 5 months leading up to Blade Trinity was nothing short of overkill. If you or I tried to lift so much and go to work and lead our normal lives we'd get burned out pretty quickly!
Ryan was training with weights six days a week, hitting a different body part each day.
Not only was the training schedule busy, the individual workouts were long, between 2-3 hours per day!
Ryan's workout would usually begin with sit-ups and then move onto the target muscle of the day. Back one day, chest the next, legs the next day etc
Reps stayed in the 8-12 range with heavy weights and Ryan did no cardio whatsoever which proves that you don't need cardio to get super lean!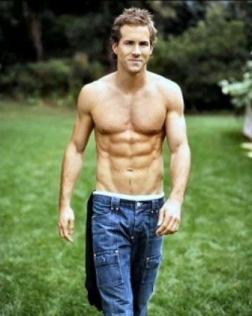 Ryan Reynolds Diet Plan
Ryan Reynolds workout regime was tough so his diet had to be spot on. His nutritional plan pre-Blade Trinity consisted of meals every 2-3 hours whilst drinking lots of water each day.
A typical day's meal plan looked like this:
Breakfast
Half cup Egg Whites
2 Whole Eggs
Oatmeal (no sugar, apple sauce and cinnamon to taste)
Snack
Protein Bar/Whey Protein Shake/Apple & Almonds
Lunch
Chicken with Vegetables/brown rice
Or
Albacore Tuna Wrap/Chicken Salad
Snack
Protein Bar/Whey Protein Shake/Apple & Almonds
Dinner
Chicken/Fish with Salad and Vegetables/Balsamic Vinegar
Before Bed/Through the Night
Whey Protein Shake with Water
This diet is pretty standard in that carbs are tapered down as the day progresses. I imagine Ryan worked out during the day so he would have had carbs pre and post workout (when they are used most efficiently) and reduced later.
The carbs provide energy during the workout and through the day but don't spill over into unwanted fat afterwards; Ryan's interview confirmed there were no carbs after 8pm.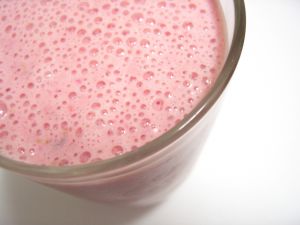 Ryan Reynolds Supplement Plan
Throughout Ryan Reynolds workout regime he took the following supplements:
Creatine
Glutamine
Conjugated Linoleic Acid (CLA)
Whey Protein
Multivitamin

Creatine: Creatine is THE muscle building supplement and has been shown time and time again to work by independent studies. Ryan was quoted as saying "I gained a lot more mass when I went on creatine"

Conjugated Linoleic Acid (CLA) : CLA is found naturally in beef but not in high enough levels hence why many athletes supplement it. It has been shown to help fat loss whilst maintaining muscle mass which was the goal of Ryan Reynolds workout program.

Whey Protein : The king of any fat loss or muscle building diet is whey protein. A busy guy like Ryan can use whey protein between meals and before bed to top up protein intake to the required amount.

Multivitamin : A multivitamin should be the foundation of any weight loss program as you will not be getting all the nutrients you usually would due to eating a narrow selection of foods.

---




So Should You Follow The Ryan Reynolds Workout & Diet Regime?

Ryan's overall program and diet gave him amazing results so it makes sense that if you follow the program exactly you too will get similar results right?

Actually… no

You must keep in mind that Ryan is a highly paid actor afforded the luxury of having every day off to prepare for his upcoming role. He could wake up when he wanted and train during the day and do all the things someone who holds down a day job struggles to do.

In addition to this, Ryan will have had more down time to recover from his workouts which means he was able to work out more regularly than the average Joe. If you or I tried to work out six days a week we would be overtraining massively and your progress would grind to a halt!





So How Can You Get a Ryan Reynolds Physique?

You can get a physique like Ryan's without sacrificing the amount of time he did. The keys to this look are low body fat (sub 10%) and a good amount of muscle mass.

All you need to do is follow the advice here and apply it consistently and you too can have a Hollywood body that's the envy of everyone else!

---





Return from Ryan Reynolds Workout to Celebrity Workouts


Return to the Homepage