The casein vs whey protein debate has raged on for years but the common perceptions that whey is a "fast" protein and casein is "slow" are actually incorrect.
In this article we look at the scientific studies to establish exactly which protein source is better for dieters concerned with building muscle and losing fat.
Before we get into the specifics about these two protein sources, it's important everyone is clear of the difference between the two types of protein powders.
Ever opened a yogurt or cream cheese and noticed the milky, thin liquid sitting on top? Well that's whey protein and ironically that was the bit I used to pour down the sink!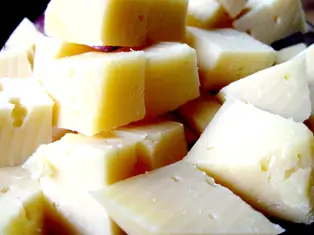 That thin liquid is a by-product of cheese production and when it is concentrated and dried you get whey protein powder.
The common perception about whey protein is that it is recommended for the post workout "window of opportunity" due to its fast digestion and absorption into your blood stream.
Casein protein on the other hand is known as a slow protein that takes longer to digest; it is also naturally found in dairy products such as cottage cheese.
If you've read much of my site you'll know that common perceptions are usually wrong. So often that you'd think I was just making it up to be controversial but I'm afraid not. Most of the widely accepted nutritional guidelines are plainly wrong!
Let's see how the casein vs whey perceptions hold up against laboratory scrutiny!
---
Casein vs Whey – The Scientific Studies
The most famous study on the effects of casein vs whey was conducted by Yves Boirie in 1997 and used healthy subjects with normal protein intakes.
Titled
"Slow and fast dietary proteins differently modulate postprandial protein accretion"
this study model had participants fast for 10 hours before being given 30g of whey or 30g of casein protein.
The participants blood leucine levels peaked one hour after the whey or casein was ingested.
What is Leucine?
Leucine is an essential amino acid which means your body can't produce it itself and therefore it must be provided via protein consumption.
It is the only dietary protein that can stimulate muscle protein synthesis (e.g. build new muscle fibres) and it also prevents protein breakdown (muscle loss).
Remember that for muscle gain to occur your protein synthesis must be higher than protein degradation to ensure a positive protein balance. Simply, excess protein makes new muscle.