This chicken kebab recipe is a high protein, low carb recipe that's quick to prepare and easy to make. Perfect for rustling up a quick low calorie dinner after work!
The ingredients are probably already in your cupboards and it can also be eaten cold if you want to make some extra and take the rest for lunch.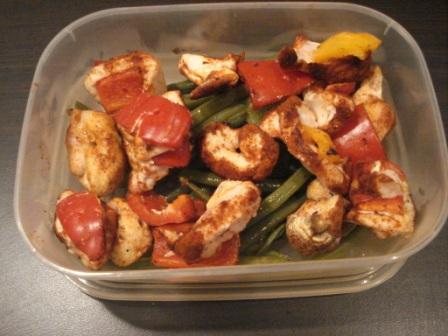 How Long Does it Take To Make?
Prep Time: 10 Minutes
Cooking Time: 10 – 20 Minutes (10 with a grill, 20 with an oven)
Ingredients
The ingredients in this chicken kebab recipe serve one person, if you're cooking for a larger group simply multiply the amounts below.
Chicken Breast – 200g
Peppers – 2
Ground Paprika
Lemon – 1 (Bottled lemon juice can be used as an alternative)
Salt and Pepper
Green Beans – 200g
Equipment Required
Every chicken kebab recipe will require skewers of some kind so its worth buying some, metal are best but be careful handling them when hot!
A cheaper option is to buy a pack of wooden skewers, if you decide to do this you'll need to soak them in water for at least 20 minutes prior to using.
Kebab Skewers
Oven Tray
George Forman Grill/Griddle Pan/Grill/Oven
Nutritional Info
The nutritional profile of this chicken kebab recipe is great for dieters as it's a high protein, low carb meal that's also very low in calories:
| Per Serving |   |
| --- | --- |
| Calories: | 202 |
| Protein: | 36.5 |
| Carbs: | 14 |
| Fibre: | 7 |
| Net Carbs: | 7 |
| Fat: | 3 |
Instructions
If you're using wooden skewers now is the time to soak them in cold water. They need to soak for at least 20 minutes or they burn during cooking!
Once you've sorted that get your chopping boards and knifes at the ready and you're good to go.
Step 1 – Chop the chicken breasts into cubes (the cubes should be big enough so that they won't fall apart when put on the skewer)
Step 2 – Chop the peppers into squares (again to fit on a skewer without falling apart)
Step 3 – Take a skewer and pierce a chicken cube through the centre, push it down to the bottom of the skewer
Step 4 – Do the same with a pepper square and repeat until all of the skewers are full
Step 5 – Place the kebabs on an oven tray then garnish with salt and pepper
Step 6 – Garnish the kebabs with paprika thoroughly and then add the juice of one lemon
Step 7 – If using an oven preheat the oven to 200c (Gas mark 6), once hot place the oven tray into the oven and leave for 20 minutes. If using a grill or foreman heat it up and grill the kebabs turning regularly, usually 5 minutes is enough cooking time.
Step 8 – Whilst the chicken is cooking, steam the green beans until tender. If using the grill to cook you may wish to get the green beans cooking a little earlier.
Step 9 – Once the chicken is cooked (the juices should run clear), remove from the over/grill and plate with the green beans
Enjoy!
---
Return from Chicken Kebab Recipe to Low Calorie Chicken Recipes


Return to Free Workout Plans For Busy People