Making chin ups a focal point of my workouts improved my upper body strength drastically and soon I was MUCH stronger in the bench press, shoulder press and just about every other upper body lift!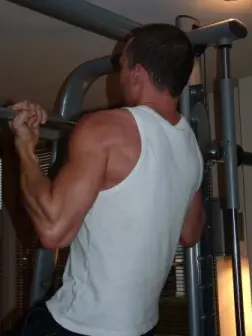 This is now one of my staple exercises that I keep in my workouts regularly and getting good at chinning has helped me get stronger than I've ever been before.
Chins are a true test of strength and everyone should be able to hoist their chin above a bar. Don't worry if you're not strong enough yet…you soon will be!
But first you must learn how to do them correctly. You might think you know how to do them, I did too, but little errors can make the exercise much less effective.
Spend a few minutes reading this guide and keep it in mind next time you go to do chins and I promise you'll get the most from this great weightlifting exercise.
---
Why Should You Do Chin Ups?
If you workout in a commercial gym it's rare to see chins or pull ups being done. This is partially to do with the popularity of the Lat Pulldown machine but if your not doing chins you're missing out on a great exercise.
Here's some reasons why chins should be part of your workout routine:
They are a compound movement which works multiple muscles at once
Better than pulldown machines as your whole body moves not just your upper body
A few sets of chins will bring better results than multiple sets of lesser exercises
Improves functional strength for everyday activities and sports
Can improve posture and alleviate back pain
Now you know why you should do chins, let me clear up exactly what one is…
---
What Exactly is a Chin Up?
It's common for chin and pull ups to get confused, even fitness websites get the two mixed up.
A Chin up is when you grip the bar with an underhand grip where your forearms are facing your face; this is known as a supine grip. Chins involve your biceps more and are therefore easier than chins.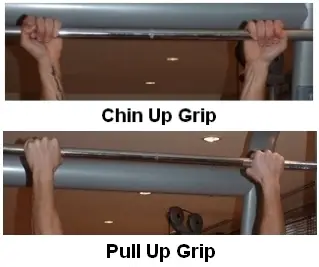 A pull up is where you grip the bar with an overhand grip and your wrists are facing away from your face; this is known as a prone grip. As chins don't involve your biceps they are harder as you back must take the load.
---
How To Do Chins Correctly
Technically speaking, a chin up is an easy exercise to do but still people make basic errors which mean they struggle to perform chins effectively.
Equipment – Find Something Sturdy To Hang Off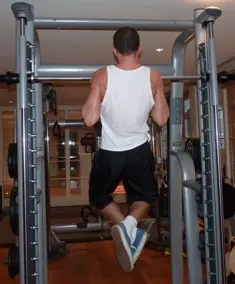 The beauty of chinning is that you can do it anywhere and you don't need any equipment. Here's a few idea's of places you can use:
A chin/pull up bar (obviously!)
The top frame of a power rack/smith machine
Smith Machine – Put the bar at the highest setting and hang from it
Any overhead beam you can grip
A tree branch (make sure it's thick!)
A door frame (fingers or using a doorframe pull up bar)
And anywhere else your imagination takes you!
Grip
As we learnt above, chins involve your palms facing your face and your grip should be about shoulder width.
You can grip the bar wider or narrower which changes the muscles emphasised by the movement but it can cause stress to the shoulder joint so I recommend a shoulder width grip.
Execution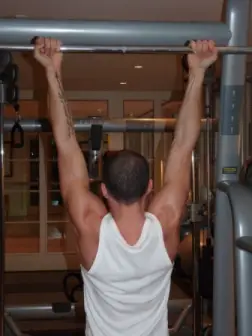 Grip The Bar – Shoulder width apart, grip the bar with your palms facing your face
Dead Hang – Your elbows must be straight so you are in a dead hand position
Deep Breath – Take a deep breath to tighten your core and keep it tight throughout
Pull Elbows Down – Rather than thinking of pulling up, think of pulling your elbows down to get moving
Chin Over The Bar – Squeeze your upper back and biceps to keep you moving upwards until your chin clears the bar
Controlled Descent – Don't collapse to the bottom or go very slowly, return to the bottom in a controlled fashion
Dead Hang & Breathe – At the bottom with straight elbows take a breath, breathe out and then tighten up your core again
Rinse and repeat – Keep going until you can do no more. I usually stop when my rep speed gets very slow.
Cheats Don't Prosper!
You often see people swinging their lower body and knees in order to generate momentum but in reality they are only cheating themselves.
Strict form ensures you stay safe from injury as well as getting the most from this exercise so don't take shortcuts and really work on getting stronger at them.
Your goal is to beat your chin up record each week, even if it's only by one rep. Maintain focus on this exercise and I guarantee you'll get stronger and fitter than ever before!
---
What if You're Not Strong Enough To Do Chins?
This is a common issue, I had the same problem but I found a number of ways to slowly build up my strength before I started doing body weight chins.
Check out Novice Pull Up Bar Training Takes You From 0 to 10 Reps in Weeks which clearly explains the system I used to build my strength.
What if Chins Are Too Easy?
If you arrive at this point you've already mastered body weight chins and you need a further challenged.
Weighted chinups are the answer and they multiply the benefits of regular chin ups twenty fold!
I'll say nothing more now as you have much chinning to do! Get out there, hang from a bar and start your chin up training now!
---
Return from Chin Ups to Weightlifting Exercises


Return from Chin Ups to the Homepage