The HCG diet is popular but is its popularity down to cold hard science and real world results or marketing hype to rake in the cash?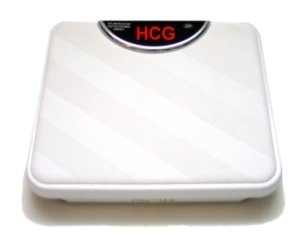 This article delves into both sides of the argument, firstly looking at the history of HCG and seeing what scientists have to say about this controversial diet and supplement program.
What are HCG Diets?
HCG, or Human Chorionic Gonadotropin is a hormone that's naturally produced by pregnant women (in the placenta) and is excreted via women's urine.
It's this hormone that is the key ingredient of HCG drops which are administered three times daily whilst the dieter consumes only 500 calories per day and does 45-60 minutes of light cardio each week.
In return this hardship you're supposed to get noticeable weight loss and many other desirable side effects such as:
Burning body fat
Suppressing appetite
Remove fat from "problem" area's such as the waist, hips and thighs
Maintains lean muscle mass
Sounds great right?
To see if HCG and the diet lives up to its bold claims we're going to look at the history of HCG diets and look at the scientific studies to find the truth!
---
The History of HCG
The HCG diet has been around for 50 years plus but the notable events since then are these:
1954 – Dr ATW Simeons releases a study called "The action of chorionic gonadotropin in the obese"
1976 – The Federal Trade Commission in the USA takes Simeons to court and orders him to stop claiming HCG diets are safe, effective and/approved by the Food Drug Administration for weight control.
2007 – Kevin Trudeau (a convicted fraudster!) released "The Weight Loss Cure "They" Don't Want You To Know About" which touted HCG as a wonder supplement.
Does The Diet Work?
Without wanting to sit on the fence here, the answer to this question is both yes and know.
Before you decide to buy HCG drops and follow the diet allow me to explain, its important you understand what contributes to the weight loss and what doesn't.
The diet of 500 calories per day puts you in a severe calorie deficit and the additional aerobic exercises helps too. With calories this low and light activity ANYONE would lose weight quickly.
With that said, its certainly not a good idea to eat so few calories as it makes getting essential vitamins, minerals and fibre very difficult and it just isn't healthy to starve yourself.
What about the HCG drops themselves?
Let's turn our attention to the scientists who've studies HCG diets and see what they have to say:
Scientific Study #1
"Weight loss was identical between the two groups, and there was no evidence for differential effects on hunger, mood or localized body measurements."
Scientific Study #2
"We conclude that there is no scientific evidence that HCG is effective in the treatment of obesity; it does not bring about weight-loss of fat-redistribution, nor does it reduce hunger or induce a feeling of well-being."
Scientific Study #3
"These results indicate that HCG has no effects on chemical and hormonal parameters measured and offers no advantage over calorie restriction in promoting weight loss."
Scientific Study #4
"Subjects receiving HCG injections showed no advantages over those on placebo in respect of any of the variables recorded. Furthermore, weight loss on our diet was similar to that on severely restricted intake. We conclude that there is no rationale for the use of HCG injections in the treatment of obesity."
Let's summarise their findings against the list of claims further up this page:
Burning body fat – HCG does not burn fat
Suppressing appetite – HCG does not suppress appetite
Remove fat from "problem" area's such as the waist, hips and thighs – HCG does not burn stubborn fat
Maintains lean muscle mass – HCG does not maintain muscle
The conclusion to be drawn here is that the HCG diet causes weight loss rather than HCG itself so save your money and don't buy HCG drops.
The diet itself should also be avoided as the severed calorie restriction is unsustainable and will eventually lead to fat regain once the diet is over.
My suggestion is to find a diet plan that allows you live a little and eat regularly, you'll be much more likely to adhere to it long-term and that's the secret to getting rid of the fat for good!
Click the link below to see other ways to lose the lard quickly…
---
Return from HCG Diet to Quick Ways To Lose Weight