Knowing how to weigh yourself while dieting sounds obvious but 99% of people do it wrong which means they have no clue whether their workout plan is working or not!
The scale is most people's way of knowing whether they're gaining or losing weight. Unfortunately, it's far too easy to get incorrect readings which leave us depressed that we're still fat or happy when we shouldn't really be.
This article will explain the common mistakes people make weighing themselves and show you how to weigh yourself the right way.
2 Reasons Why Weighing Yourself is Misleading
Before I explain what not to do and the right way to do things, it's important we put weighing yourself in context.
Whilst it's the reference point for most people who step on the scale half awake every morning, it's actually not as important as you think!
#1 – Scales Don't Tell You How Much Fat You're Losing
The reason bathroom scales are a poor indicator of overall progress is because they only tell you how much you weigh…they don't tell you how much fat you have or how much fat you've lost.
When you're trying to lose weight you can think you're losing fat because the scale keeps going down but in fact you could be losing muscle. Lose muscle and you'll be a lighter, smaller version of what you look like now.
On the other hand, keep your muscle and lose mostly fat and your body will look vastly different. For this reason FAT LOSS should be the goal not mere weight loss.
#2 – They Can Create Irrational Fears About Food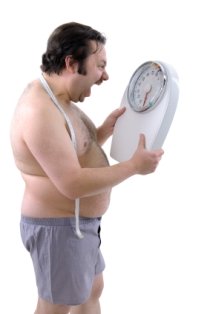 Low carb diets are touted as fast ways to lose weight and whilst there are benefits to them much of the "weight loss" at the beginning is nothing more than an illusion.
For every gram of carbohydrates your body stores for energy it also stores 3 grams of water. When you cut out carbs you lower the amount your body has stored.
You lower carbs and by default you lower the water stored by your body too and just like magic the scale drops.
If you start eating lots of carbs again after low carb dieting the scale shoots back up as your body stores the carbs and the water.
This makes a lot of people draw false conclusions that go along the lines of:
Eat carbs and weight goes up
Cut out carbs and weight goes down
THIS MUST MEAN CARBS ARE EVIL!
No, No, No, No! Don't be fooled! You didn't gain fat from eating carbs and you didn't lose fat by cutting them out you simply manipulated water balance.
---
Decide Whether or Not To Weigh Yourself Everyday
If it drives you crazy to see the scale go up rather than down while you're dieting then don't weigh yourself everyday.
If you eat the same way every day (e.g. low carb) then your weight should stay fairly stable and it won't be influenced by cutting out or reintroducing carbs. This makes it easier to weigh yourself and not send yourself crazy!
If on the other hand you cycle different eating styles (e.g. high carb day followed by low carb day) then you should pick the low carb day near the end of the week and always weigh yourself on this day.
That'll help keep things consistent and keep fluctuations and variability to a minimum.
If you can cope with seeing the scale move both ways then feel free. I personally do this as I like to see how much the scale fluctuations day-to-day but no matter what, the scale always drops by at least a pound by the end of the week.
---
How To Weigh Yourself Properly
To be able to measure your weight accurately over a long period of time you need to ensure the conditions are as similar as possible each time.
Here's how to weigh yourself whilst limiting variables and ensuring similar circumstances each time:
Weigh yourself in the morning before you've eaten/drunk anything
Go to the toilet before you weigh yourself (when possible)
Weigh yourself wearing the same clothes (underwear/naked)
Weigh yourself 3 times to avoid miss-readings (then record the constant weight)
Write down the date and your weigh in whatever metric you use (stone, pounds, kg)
Record this in your log so you can see your weight loss over time
With these simple steps you'll eliminate any false readings and when combined with the other tools listed on my Free Online Diet Plans Tools page you'll always know where you stand!
---
Return from How To Weigh Yourself to Free Online Diet Plans Tools
Return to Free Workout Plans For Busy People