by Skye
(Free Workout Plans For Busy People HQ)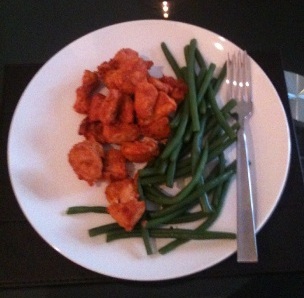 This ketogenic diet recipe is one of my favourite recipes and it's regularly requested by my better half as a tasty dinner after work.
I've also cooked it when we?ve had people round for dinner and it's been equally well received!
How Long Does it Take To Make?
Preparation Time: 10 minutes
Cooking Time: 45 minutes
Nutritional Breakdown
This is based on a serving for one person (200g chicken, 5ml single cream, 1.5TBSP olive oil, 1TBSP Tomato Puree, 100g Green Beans)
Calories: 389
Protein: 36.7g
Carbs: 5.8g
Fat: 23.6g
As with all keto recipes you can add more oil and cream as required boosting the fat content.
Ingredients Required
200g Chicken Breasts
1.5TBSP Olive Oil
Garlic – 2 cloves
Lemon or Lemon Juice
5ml Single Cream
1 TBSP Tomato Puree
If you're cooking for more people just multiply the numbers accordingly.
---
Instructions

1. First chop the garlic into small pieces.
2. Take the chicken breasts and chop into cubes
3. Get a plastic food bag like a zip loc and
place the garlic inside
4. Put 3 TBSP of olive oil (you can use more or less depending on your dietary needs)
into the plastic food bag with the garlic
5. Place the chicken in the plastic bag
6. Use a table spoon and measure out 2 TBSP?s of tomato puree and then put this into the food bag too.
7. Juice a fresh lemon or use bottled lemon juice and put the juice into the plastic bag also.
8. Make sure the bag is secure and then shake it around to mix all the ingredients together.
9. Place the plastic bag in the fridge and leave to marinate and chill for as long as possible (overnight is best but if time is tight 20 mins
will be OK)
10. Heat up a frying pan on the hob and then pour the chicken mix into the pan (you don't need oil in the pan as the chicken already has it)
11. Brown off the chicken on a high heat
12. Once the chicken is brown turn to a low heat and leave for 20 mins, stirring occasionally
13. If you are accompanying your dish with vegetables now is the time to get them going so they are ready the same time as your chicken.
14. Once your chicken has been simmering for 20 mins (step 12) pour some single cream into the pan and stir until it's a peach colour
15. Leave to simmer on a low heat for 5 minutes and then serve up with your vegetables.
Serve and Enjoy!
---
See More Great
Ketogenic Diet Recipes!