by Skye
(Free Workout Plans For Busy People HQ)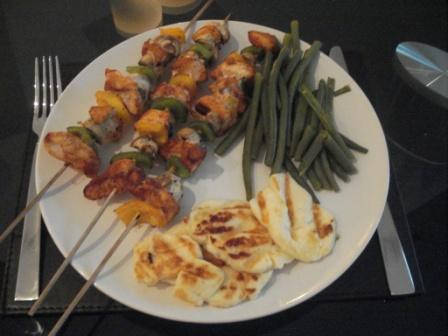 This ketogenic diet recipe is a great tasting, high protein meal that doesn't look like a typical ketogenic diet recipe so it's easy to trick people into eating your diet food!
The spicy paprika chicken kebabs coupled with halloumi cheese and vegetables make this extra tasty and very filling.
How Long Does it Take To Make?

Preparation Time: 10 Minutes
Cooking Time: 20 Minutes
Serves: 2
Nutritional Breakdown
Whilst this ketogenic diet recipe serves two the nutritional information below is per person. Whilst 600 calories may be a little too much for some people, you can of course adjust the amount of halloumi to a smaller portion as most of the calories come from there.
Calories: 589
Protein: 62.6g
Carbs: 4.8g
Net Carbs: 3.4g
Fibre: 1.4g
Fat: 33.5g
Ingredients Required
Chicken Breast 200g
Peppers – 2
Paprika
Olive Oil – 1 TBSP
1 Lemon
Salt and Pepper
Haloumi – 250g
Utensils Required

Kebab Skewers
Oven Tray
George Forman/Griddle Pan/Grill
---
Instructions

1 – Chop the chicken breasts into cubes (the cubes should be big enough so that they won't fall apart when put on the skewer)
2 – Chop the peppers into squares (again to fit on a skewer without falling apart)
3 – Take a skewer and pierce a chicken cube through the centre, push it down to the bottom of the skewer
4 – Do the same with a pepper square
5 – Repeat until all of the skewers are full and place on an oven tray then garnish the kebabs with salt and pepper
6 – Garnish the kebabs with paprika thoroughly, drizzle 1 TBSP of olive oil onto the kebabs and then add the juice of one lemon
Progress Check: Your kebabs should look like this at this stage…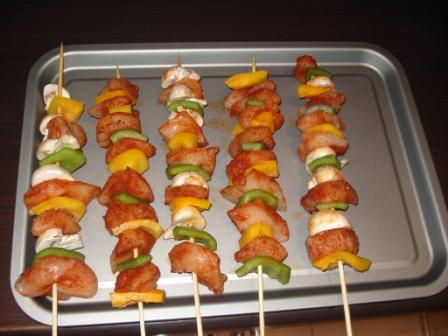 7 – Preheat the oven to 200c (Gas mark 6), once hot place the oven tray into the oven and leave for 20 minutes
8 – Whilst the chicken is cooking, heat up the griddle pan or the George Forman. Whilst it's heating up chop the halloumi into thick slices
9 – Once sliced place the halloumi onto the pan/foreman and cook on a high heat for 5 minutes. Flip it regularly, until both sides have brown pan marks on (look at the picture to see what I mean).
10 – After the chicken has been in for 20 minutes remove it from the oven and put the skewers on your plate.
11 – Add the halloumi and any vegetables you wish on the side and serve!
Serve and Enjoy!
You now have a crowd pleasing ketogenic diet recipe to enjoy with others without them even knowing!
---
See More Great Ketogenic Diet Recipes