This Lebanese chicken recipe is a tangy and tasty dinner that's low calorie and low carb so perfect for dieting or dinner parties.
Credit for the recipe is due to my mother who introduced it to me and ever since I've cooked it regularly and it goes down very well even with people who aren't dieting.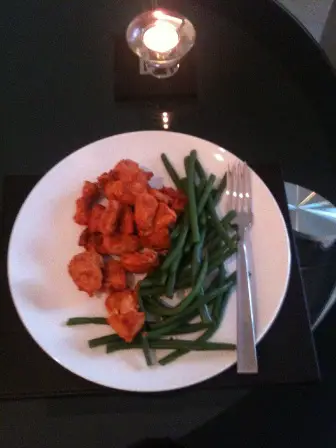 How Long Does it Take To Make?
Preparation Time: 10 minutes
Cooking Time: 45 minutes
Ingredients
This Lebanese chicken recipe is designed for serving two people, simply multiply/divide as required if you're cooking for more/less people.
2 Chicken Breasts (400g)
2 TBSP's Olive Oil
½ Fresh Lemon or 3 TBSP Lemon Juice
2 Garlic Cloves
2 TBSP's Tomato Puree
¼ Teaspoon Chilli Powder
15ml Single Cream
300g Green Beans
Equipment Required
Frying pan
Pot/Steamer for Green Beans
Chopping Board
Sharp Knifes
Zip-Loc/Food storage bag
Tablespoon
Nutritional Info
The nutritional information for this Lebanese chicken recipe is based on an individual serving (1 person) which is comprised of 200g chicken, 7.5ml single cream, 1 TBSP olive oil, 1TBSP Tomato Puree, 150g Green Beans, 1 garlic clove and 3 TBSP lemon juice.
| Per Serving |   |
| --- | --- |
| Calories: | 372 |
| Protein: | 38 |
| Carbs: | 19 |
| Fat: | 17 |
Low Carb
Despite the 19g of carbs this Lebanese chicken recipe is viable option for a low carb diet as 11g of the carbs are from the green beans. The green beans have 5g of fibre so the actual net carbs are just 6g which makes to total 13g.
Lower Fat Version
Whilst there are 17g of fat, 14g are from olive oil which is a good fat and nothing for you to worry about. If you're still hung up on low fat then feel free to replace the olive oil with low calorie cooking spray. That would make the fat content only 3g.
Instructions
Step 1 – First chop the garlic into small pieces.
Step 2 – Take the chicken breasts and chop into cubes
Step 3 – Get a plastic food bag like a zip loc and place the garlic inside
Step 4 – Put 1TBSP of olive oil into the plastic food bag with the garlic
Step 5 – Place the chicken in the plastic bag
Step 6 – Use a table spoon and measure out 1 TBSP of tomato puree and then put this into the food bag too.
Step 7 – Juice a fresh lemon or use bottled lemon juice and put the juice into the plastic bag also.
Step 8 – Make sure the bag is secure and then shake it around to mix all the ingredients together.
Step 9 -Place the plastic bag in the fridge and leave to marinate and chill for as long as possible (overnight is best for flavour but if time is tight 20 mins will be OK)
Step 10 – Heat up a frying pan on the hob and then pour the chicken mix into the pan (you don't need oil in the pan as the chicken already has it)
Step 11 – Fry the chicken on a high heat (approx 5 mins) stirring reguarly
Step 12 – Once the chicken is brown turn to a low heat to simmer and and leave for 20 mins, stirring occasionally
Step 13 – If you are accompanying your dish with vegetables now is the time to get them going so they are ready the same time as your chicken.
Step 14 – Once your chicken has been simmering for 20 mins (step 12) pour the single cream (15ml) into the pan and stir until it's a peach colour
Step 15 – Leave to simmer on a low heat for 5 minutes and then serve up with your vegetables.
Enjoy!
I'm confident once you taste this Lebanese chicken recipe it will become a staple of your diet and a favourite of your dinner party guests for years to come.
Contact me
and let me know how you liked it!
---
Return from Lebanese Chicken Recipe to Low Calorie Chicken Recipes
Return to Free Workout Plans For Busy People