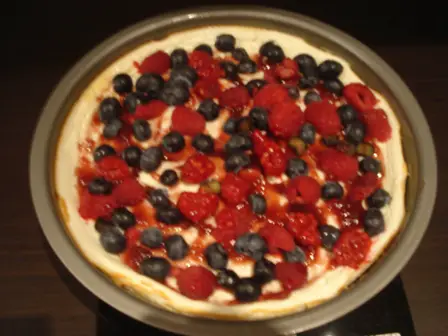 This low carb cheesecake recipe is truly mind blowing! In fact it tastes so good, my friends and family don't even know it's a diet version!
I've always been a fan of cheesecake, but this blueberry and raspberry cheesecake is tough to beat and as far as diet friendly foods go, I'm yet to find anything tastier!
It almost sounds too good to be true but you can easily make this high Protein, low fat, low carb, cheesecake recipe and include it in your diet every week if you want!
Are you salivating at the prospect? OK, I won't talk it up anymore, lets get started and I'll tell you what you need to make this divine dessert!
---
Low Carb Cheesecake Recipe
Ingredients:
Low Fat Cooking Spray – I use Fry Light but Pam is fine too
4 Digestive Biscuits – Graham Crackers can be used
1 Whole Egg
1 Egg White
40g Raspberry Jam
55g Blueberries
45g Raspberries
450g Fat Free Cream Cheese – I use Quark but Ricotta or Philadelphia can be used
15g Splenda (Granulated)
½ tsp Vanilla Extract
75ml Skimmed Milk
If you need to convert the measurements into US format then the converter below can do this for you:
Converter kindly provided by
unitconversion.org


Equipment:
Non-Stick Baking Dish (I use a metal Victoria sandwich tin)
Electric Whisk/Hand Mixer (to beat the eggs, this can be done manually also)
Large Mixing Bowl
Tablespoon/teaspoon
Laying the Foundation – The Base
1. Take your non stick baking dish spray it with Fry Light or Pam. Next, take four digestive biscuits and break them up (over the dish) into small pieces using your hands.

2. Use the bottom of a tablespoon to crush the biscuits into very small pieces, the bottom of the baking dish should be covered by a thin layer of biscuits.
Making the Middle – The Cheesecake
1. Take your mixing bowl and add the following ingredients:
15g Splenda (1/2 cup)
450g Fat Free Cream Cheese
75ml Skimmed Milk (1/4 cup)
1/2 tsp Vanilla Extract
Using your mixer (or a fork if you don't have one) mix the ingredients for around 1 minute (longer by hand) until the batter is smooth.

2. Now add the eggs, separating the yolk and throwing it away for one egg and adding the second egg whole. Mix again until the batter is a creamy consistency.
Bringing it all together
1. Pour the batter into the baking dish
2. Bake in the oven at 325F (175c) for 30-40 minutes

3. Take it out of the oven and leave it to cool
4. Once cool, place in the refrigerator for a minimum of 3 hours
The Final Touches – The Topping
1. Get your topping ingredients ready and your cheesecake out of the refrigerator
2. Chop the raspberries and blueberries in half

3. Take your sugar free jam and spread it across the cheesecake using the back of a spoon
4. Add the chopped berries to the top
And Enjoy!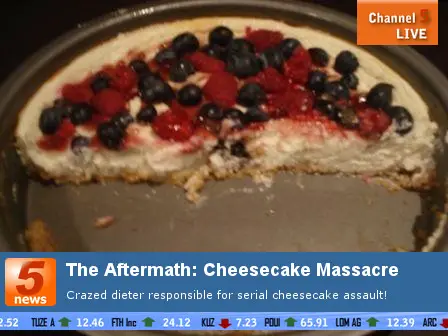 ---
Nutritional Information
You can cut the cheesecake into 4 portions of 8 if you prefer, the macros for both serving sizes are: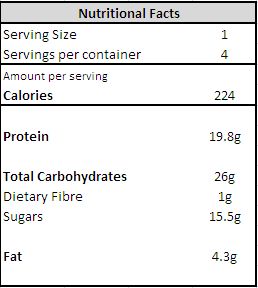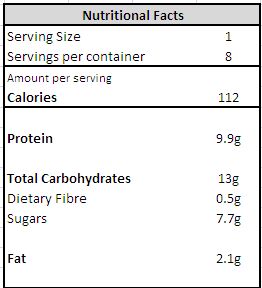 I usually cut my cheesecake into 4 servings, 20g of Protein and less than 250 calories means I include it frequently during dieting with no adverse effects. If anything it helps me stick to my diet as this treat is wonderful psychologically when you have cravings for something sweet!
I hope you enjoy this low carb cheesecake recipe as much as I do! This is just one of my
low calorie dessert recipes
that help keep me sane whilst dieting!
There's many more for you to discover and enjoy so make sure you check out the rest!
---
Return from Low Carb Cheesecake Recipe to Low Calorie Desert Recipes


Return from Low Carb Cheesecake Recipe to the Home Page