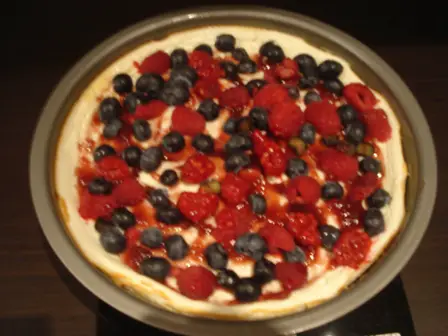 This low carb cheesecake recipe is truly mind blowing! In fact it tastes so good, my friends and family don't even know it's a diet version!
I've always been a fan of cheesecake, but this blueberry and raspberry cheesecake is tough to beat and as far as diet friendly foods go, I'm yet to find anything tastier!
It almost sounds too good to be true but you can easily make this high Protein, low fat, low carb, cheesecake recipe and include it in your diet every week if you want!
Are you salivating at the prospect? OK, I won't talk it up anymore, lets get started and I'll tell you what you need to make this divine dessert!
---
Low Carb Cheesecake Recipe
Ingredients:
Low Fat Cooking Spray – I use Fry Light but Pam is fine too
4 Digestive Biscuits – Graham Crackers can be used
1 Whole Egg
1 Egg White
40g Raspberry Jam
55g Blueberries
45g Raspberries
450g Fat Free Cream Cheese – I use Quark but Ricotta or Philadelphia can be used
15g Splenda (Granulated)
½ tsp Vanilla Extract
75ml Skimmed Milk
If you need to convert the measurements into US format then the converter below can do this for you: