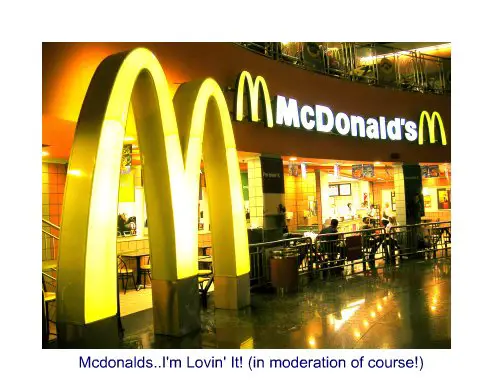 A Mcdonalds Calorie Counter sounds pretty stupid because generally calorie counting and Mcdonalds do not go well together.
You wanna know why most people fail when they try to diet?
Because they go from over-indulging in all the wrong things to the extreme not going to eat anything but air and water diet!
Even if they keep it up for a week or two after a while it gets psychologically difficult and they give up.
The purpose of this tool is to help you choose wisely and stay on track! As with all the articles on my website the goal here is to allow you to indulge in your favourite foods whilst still ensuring your hard earned physique does not get swamped in flab!
If (Ba Da Ba Ba Ba) you're lovin' it a little too much it can spell problems, moderation is always the key and whilst it's not exactly good nutrition Mcdonalds is a part of life for many people and there's no getting away from it.
Even the ultra disiplined atheletes allow themselves a cheat meal and often they will go for a burger and fries and why not provided it doesn't become too regular!
Eating a cheat meal is not as bad as missing a meal so if your'e on the go then don't feel too bad about being drawn to the golden arches!
---
Mcdonalds UK Food List