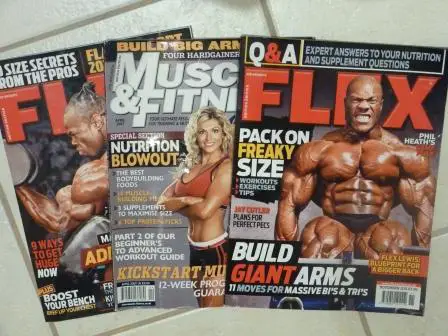 Muscle building magazines provide little more than entertainment for natural trainees because the workouts only work if you're a steroid user.
Make no mistake about it, if you are a natural trainee you will make little to no progress following the workouts you see in Flex Magazine.
Whilst absolute beginners can make progress using any workout, it's not optimal for them and it's not the best use of your time anyway.
In this article I expose the muscle magazines and tell you why you need to take everything you read with a pinch of salt.
Workouts Useless For Natural Trainees
The workout routines in the muscle building magazines only based on steroid using pro bodybuilders.
These guys have many advantages over the average gym rat:
They naturally have far better genetics that you or I
They have no other job or stresses other than being a bodybuilder
They have all the supplements they need to support they're training
Compare that to you or I who likely have average genetics, a full time job and a limited supplement budget and you can see why they already have a head start on us.
And then the game changer…Steroids.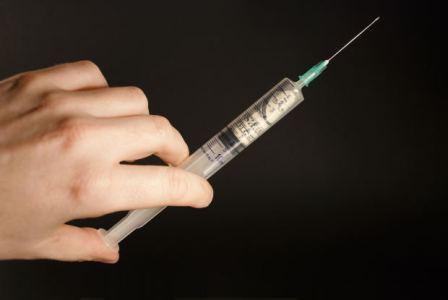 Make no mistake about it, steroids are the reason they get as big as they do, it's also the reason they train the way they do.
Unfortunately, if you or I try to follow this type of workout routine it doesn't produce results because we can't recover from the workouts.
Drugs allow the bodybuilders to train more often, recover quicker and do more work at each workout without impacting negatively on their recovery (remember muscle growth occurs during recovery).
As a natural trainee you have a different set of rules to follow…
Rules for Natural Trainees
You don't need to train 5-6 times per week hitting each muscle for 10 different angles.
You don't need to focus on isolation exercises like dumbbell flyes or bicep curls for multiple sets.
You need to get stronger in the big compound movements such as the bench press, deadlift, squat, tricep dips, pull ups etc.
The muscle magazines don't tell you this and people follow the workouts of the Pros in good faith.
The logic goes that if it worked for Mr Olympia then its good enough for you but you must appreciate that your needs are vastly different to Jay Cutlers.
Over Promotion of Supplements
Muscle building magazines seriously exaggerate the role of supplements to get you to spend money on them.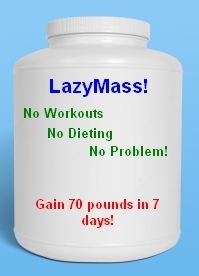 The reason they do this is because most muscle magazines are owned by supplement companies.
Muscle and Fitness and Flex Magazine are owned by Weider Co. and Muscle Media is owned by EAS.
Even online magazines are owned by supplement manufacturers, Testosterone Muscle for example are owned by Biotest.
It's in these magazines interests for you to believe supplements are the reason these guys get so jacked.
The truth is it's the illegal drugs they're taking, but of course they can't say that publically so they just tell you it's because of protein powder X or Creatine Brand Y.
Don't fall for this BS. Supplements are exactly what they sound like…supplementary to a good diet and workout plan and not a magic pill that does the work for you.
Summary
I hope this has got you thinking about the workouts you see in the magazines and why they're not as productive as workouts for natural trainees.
You might expect me to not read muscle building magazines but I actually do. I do this because I know what to take in and what to ignore.
Exercise technique, recipes and new products I'll always look out for. The workout plans and supplement ads I'll always look at and laugh at how misguided they are.
Being able to tell the difference between what to take in and what to ignore is key, if you think you'd struggle then ditch the mags completely
Unfortunately not everyone knows this so please retweet this article and share it on Facebook using the buttons below so we can spread the word.
Ultimate Diabetes Meal Planner