My stir fry chicken recipe is a tangy, crunchy low carb stir fry which is simple to make and mostly uses ingredients you already have in your cupboards.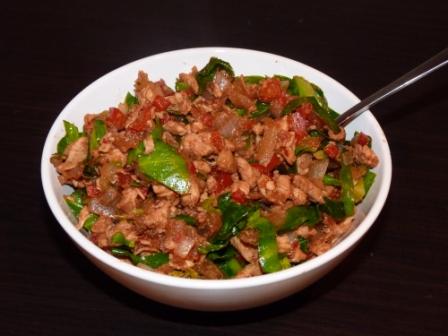 There's no special equipment needed or special cooking techniques so even kitchen novices will be able to follow this simple 7 step recipe.
Healthy Chicken Stir Fry Recipe
How Long Does it Take To Make?
Preparation Time: 10 minutes
Cooking Time: 30 minutes
Ingredients
This low calorie chicken recipe is designed to serve two people, so multiply/divide as required if you're cooking for more/less people.
2 Chicken Breasts (400g)
1 TBSP Olive Oil
1 Onion
½ Red Pepper
200g Spring Greens or Kale
2 TBSP Worcestershire Sauce
3 TBSP Soy Sauce
2 TBSP Tomato Puree
Equipment Required
Frying pan
Chopping Board
Sharp Knifes
Tablespoon
Nutritional Info
The nutritional information for stir fry chicken recipe is based on an individual serving (1 person) which is comprised of 200g chicken, 1/2 TBSP olive oil, ½ Onion, ¼ red pepper, 100g spring greens, 1 TBSP Worcestershire sauce, 1.5 TBSP soy sauce and 1 TBSP tomato puree.
Calories: 408
Protein: 39g
Carbs: 26g
Fat: 16g
Instructions
Step 1 – First chop the chicken into small pieces
Step 2 – Add 2 TBSP soy sauce, 2 TBSP tomato puree and TBSP Worcester sauce to a bowl and add the chicken (leave to marinade as long as possible)
Step 3 – Chop the onion into very thin, small pieces
Step 4 – Chop half a red pepper into very thin pieces
Step 5 – Add 1 TBSP olive oil to a hot pan and add the chicken, cook on a high heat for 10 minutes
Step 6 – Add the onion and pepper, cook on high heat for 5 minutes then leave on lowest heat until onions caramelise
Step 7 – Add spring greens and stir to mix all ingredients, add the remaining 1 TBSP soy sauce
Enjoy!

Need to tweak the recipe to make it fit your diet?
Low Carb Version
Whilst this is a low carb meal, the 26g of carbs (mainly from the Worcester and soy sauces) may mean it's not an option for everyone. If that's the case check out my other Low Calorie Chicken Recipes as they'll be other options with next to no carbs at all.
Lower Fat Version
14g of the 16g of fat come from healthy olive oils so there's nothing to worry about. If you're still scared of ALL fats (it's only trans fats you need to worry about!) then feel free to use a low calorie cooking spray instead. This would make the fat content only 2g and would lower the calorie count down to 288 calories per serving.
Overall, this stir fry is a great low carb option and I regularly eat it on days where I'm restricting carbs but one that anyone would happily eat.
In fact this is one of my girlfriend's favourite recipes and one that she requests almost every week. Who knows, it could become a staple in your household too!
---


Return from Stir Fry Chicken Recipe to Low Calorie Chicken Recipes
Return to Free Workout Plans For Busy People