Find Subway calories and nutritional info here and discover the truth about the "healthy" image Subway's marketing team have cultivated!


The "Eat Fresh" tag line and the salad inside makes Joe Public think that Subway is a decent lunch option, but the truth is it's actually no better than McDonalds, Burger King or any other fast food joint.
As with all of them, there are better choices as they've been forced to disclose the fast food calories and nutritional information and also make healthier options available.
So before you head off to lunch uninformed, take a look at my Subway Calories guide and ensure you're sub doesn't blow your diet!
---
Subway Calories & Nutritional Information Guide
Click the below documents to download the Subway Calories guide for the UK and the USA.
Download Subway UK Nutritional Info

Download Subway USA Nutritional Info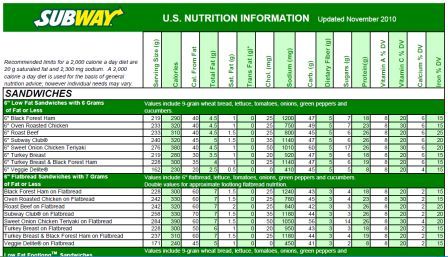 The USA nutritional information can also be found on Subway's website if it makes it easier for you: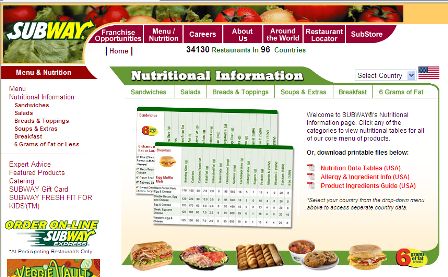 ---
The Subway Calories Guide Uncovers The Truth!
Three of the girls I sit with in the office were the reason I made this guide available. All three were conscious of their weight (what women aren't!) and they'd got to Subway because it was the "healthy" option.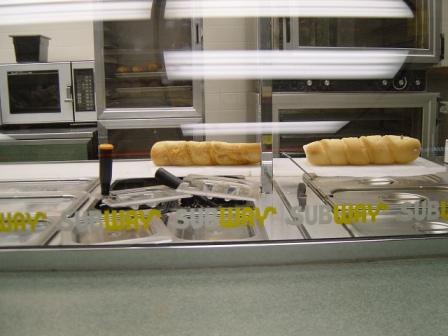 They also chose the wrap over a 6 inch loaf of bread as they figured it had less calories and less carbs.
You should have seen their faces when I checked my Subway Calories guide and revealed the truth…
The wrap had 328 calories in it, a hundred calories more than the most calorific bread (6 inch Honey Oat – 228 calories).
Worse still, it had almost double the carbs (60 grams) and a third more fat (6.6 grams) than the worst bread!
They couldn't believe it and immediately switched back to bread and actually enjoyed their lunch again safe in the knowledge they'd saved 100 calories just by switching back to bread!
---
Use The Subway Calories Guide To Make Better Choices!
If you still want to eat at Subway now that you know what's in it then go for it. If your diet prevents you from demolishing a foot long Meatball Marinara with cheese (drooling on keyboard!) then you may need a lower calorie/carb choice.
Here's a selection of better choices from Subway:
Lowest Calories
Bread
Wholemeal bread is always better than brown but Subway's Wheat bread isn't exactly wholemeal. It's called Wheat because it contains wheat not because it is wholemeal or whole wheat.
The wheat bread also contains some scary ingredients such as high fructose corn syrup as well as other sugars such as honey, maltodextrin and refinery syrup.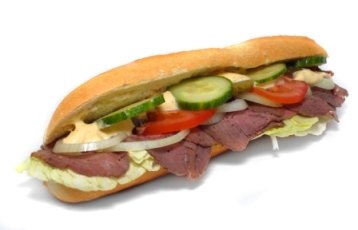 Here's the ingredient list for the Wheat bread:
-GRAIN WHEAT Enriched wheat flour (wheat flour, barley malt, niacin, iron, thiamin mononitrate, riboflavin, folic acid), water, yeast, high fructose corn syrup, whole wheat flour, wheat gluten, contains 2% or less of the following: oat fiber, soybean oil, salt, wheat bran, rolled wheat, rye nuggets, dough conditioners (DATEM, sodium stearoyl lactylate), yeast nutrients (calcium sulfate, ammonium sulfate), degermed yellow corn meal, rolled oats, rye flakes, caramel color, triticale flakes, parboiled brown rice, refinery syrup, honey, barley flakes, flaxseed, millet, sorghum flour, azodiacarbonamide, natural flavor (maltodextrin, natural flavor, silicon dioxide, lactic acid). Contains wheat
Calorie wise the 6" Italian White bread is the lowest calorie Subway bread with 180 calories, however, as they all have horrible ingredients I'd probably go with the Wheat bread.
It gets my vote in the hope that the extra fibre from the wheat helps your body "get rid of" the crap in the bread mix!
Meat
Lean meat such as turkey, chicken and tuna (not tuna mayo!) are the lowest calorie options and are protein rich which is perfect for dieters.
Sure, the meatball marinara is tasty but its also high calorie due to the fat that comes with it.
The Subway salads are particularly good for low carb dieters but they are stingy with the meat so you might have to top it up with some cold meats from the supermarket. I do this to up the protein content.
Sauces
The lowest calorie sauces are mustard or deli brown (5 calories), vinegar (8 calories), Red wine vinaigrette and Honey Mustard Sauce (30 calories) and Sweet Onion Sauce (40 calories).
With that said some of those are sugar based so stick to mustard/deli brown or vinegar if you're following a low carb diet. Even better opt for the ranch dressing, while it clocks in at 110 calories and 11 grams of fat it contains only 1g of carbs.
Summary
Suggestions aside, use the guides to know what's in your sub and plan ahead so if you get caught in a pickle (get it?) then you know what your safe options are.
Use this information to take control of your dieting so you can be flexible and stick to your eating plan.
After all, long term adherence is only possible when you're diet works around you and long term adherence is the key to getting the body you're working towards!
---
Return from Subway Calories to Fast Food Calories
Return to Free Workout Plans For Busy People