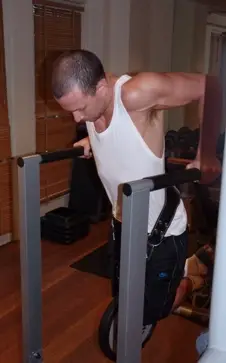 Weighted dips are one of the best exercises period. Not just a good tricep exercise they actually help you get stronger in all pressing movements so it's not uncommon for your bench press and overhead press to start feeling lighter than before.
In
Tricep Dips: An Effective Exercise You Can Do Anywhere!
I showed you how to perform a regular tricep dip and explained why you should be doing them.
Well the benefits of the exercise increase ten fold when you're strong enough that you're bodyweight simply isn't enough.
If you want to know how to perform tricep dips then check out the original article. Whilst the technique is the same this article focuses on the unique aspects of the weighted tricep dips.
---
Equipment Needed
The beauty of bodyweight exercises are the fact that you can do them anywhere and you just need something to hang or push off and you're set.
When you add weight to the mix you need a way of securing it to your body and you need to be sure whatever you're hanging or pushing off won't fall apart mid rep!
To perform weighted dips you need to hold an additional weight while performing the dips. Some people do this by holding a dumbbell between their feet, this works on light sets but once you get into the heavy stuff it doesn't.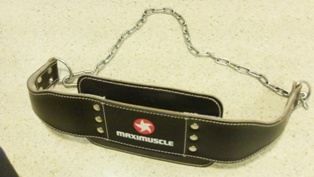 Here's what you need:
Weightlifting belt
I know it looks like something out of Wrestlemania but it really is a sound investment as it can also be used for weighted chin ups and weighted pull ups.
Carrying around the gym kinda makes you want to powerslam someone into the squat rack but I usually resist the urges!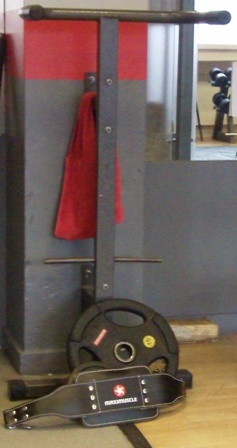 Dipping Station & Barbell Plates
You can improvise with where you dip but a dipping station is the safest bet. Two chairs back-to-back might hold your bodyweight but they won't hold an additional 20kg and you could hurt yourself so think carefully!
A good dipping station is sold, secured to the wall/ground and allows you the confidence to really go for it.
There's nothing worse than feeling a wobble mid-rep and wondering if the world's going to come crashing down around you!You'll also need some barbell plates; I suggest starting with a 10kg, 15kg and a 20kg.
---
Attaching The Belt Securely
Attaching the belt securely is important, especially for the gentlemen!
The belt is simply a leather belt with a chain which is secured by a clip similar to those that you use to secure different attachments to weights machines like a lat pulldown.
Unclip the chain, place the belt over your lower back and bring it round to your front. You should have the plate you want to attach ready, run the chain through the centre hole and then fasten the attachment to your belt.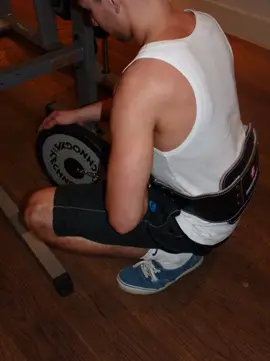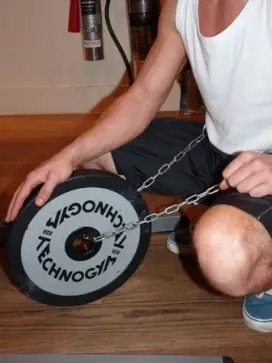 Check that the belt is securely fastened and steady the plate with your hand.
Don't secure the weight too early before your set as your legs can get fatigued just sitting in the ready position!
---
Performing Weighted Dips
When you're ready, step up onto the dipping station and use your knees to keep the plate from swinging and hurting you.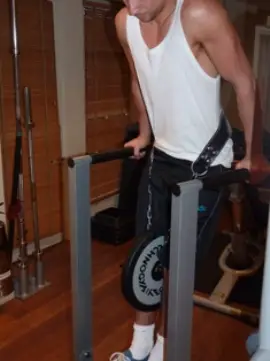 Get into the start position with your arms straight and you're elbows locked, keep your knees close together to keep the plate steady.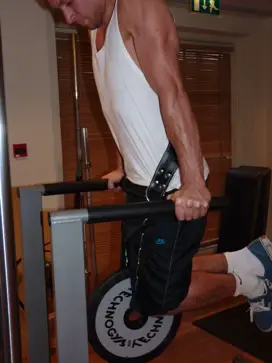 Unlock your elbows and make the downward journey ensuring that your shoulders go below your elbows.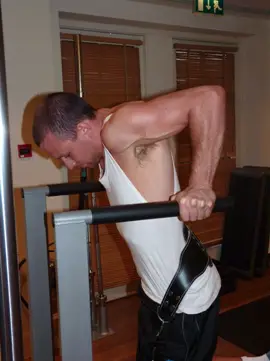 This is important. The depth of the dip is what makes the movement so effective. Don't cut off your range of motion in order to lift the heavier weight.
Lighten up the load and go for a full range of motion, we're trying to get results here, not massage our ego's!
As with regular dips, drive back up and straighten your arms until your elbows are locked. This is more important during weighted dips as the weight on your belt means your arms will get fatigued.
If your arms are bent at the top because your triceps will still be engaged and working to stabilise you.Make sure you lock your elbows at the top.
---
You'll be surprised how quickly you can develop strength doing weighted dips, I used to struggle with a 10kg plate now I've got a couple of big 20kg's handing from my waist.
My bench press has shot up by 20kg since I've been doing them and my overhead press has also been progressing nicely.
Get over the stigma attached to carrying the belt and embrace the amazing benefits weighted dips can bring to your training.
Happy dipping!
---
Return from Weighted Dips to Tricep Exercises


Return to Weightlifting Exercises


Return from Weighted Dips to the Homepage