A weightlifting beginner needs a workout tailored to their needs in order to make instant progress. Forget the latest flex magazine workout and try this workout from celebrity PT Mark Alexander!
I interviewed Mark recently and I train with him regularly and he knows his training that for sure. Read his interview and see the workout video in my Mark Alexander Interview if you want to know more about him.
I'll leave the rest of this article to Mark, don't worry…you're in safe hands!
Download The Workout!
Click the image below to download the workout plan to your computer; you'll need adobe reader to view the file. If you don't have it click the "get adobe" button for a free copy of the software.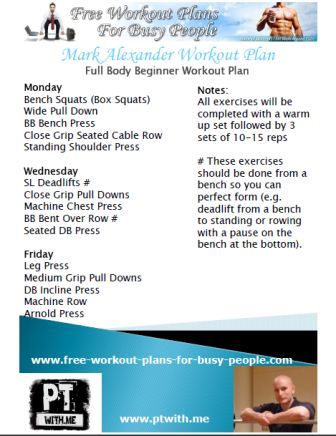 Once downloaded read the accompanying guide below where Mark talks you through his workout!
---
Celeb PT Mark Alexander's Weightlifting Beginner Workout
A very high percentage of people start a training programme with no or a lack of guidance or simply follow the 'gym myths' to try to get the results they are looking for and sadly most will always fail. This is usually the case when using weights, I believe people just don't understand the real benefits from doing them and the positive effects it has on our bodies.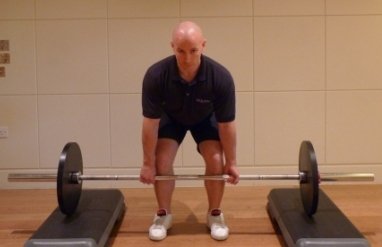 Back to Basics
The weightlifting beginner, actually, even people who've been lifting weights for longer with little results need to go back to basics and start using the most productive exercises available.
You need to always remember there is no quick fix and you must stop exercising in ways you "think" are better. An example of this is spot reduction training which refers to training a specific body part to reduce fat in that area, there is no such thing! Forget these new fad training programmes and focus on the basics.
Now there are a million different training programmes that you could do, but I believe it is better to keep things very simple by choosing exercises that burn the most calories during and after the workout.
In addition, they are function in that they relate to movements you do every single day. These movements include squatting, deadlifting, pushing and pulling and they all work more than one joint and multiple muscles at the same time.
Isolation movements (single joint work) such as sit ups, bicep curls and chest flies are exercises that isolate only a single muscle which are less functional as the body doesn't move like that. They also burn less calories compared to any compound movement, for this reason compound movements rule.
---
Weightlifting Beginner Lesson 1 – Reps and Sets Explained
A repetition/rep is the number of times that you complete a specific movement from start to finish.
Sets are how many times you would complete your selected number of repetitions.
Below is a rep/set table to help you understand how different rep ranges effect your body:
| Goal/Stage | Reps per Set | Sets per Exercise |
| --- | --- | --- |
| Endurance/Beginner | 15+ | 1-3 |
| Hypertrophy/Maintenance | 8-12 | 3-4 |
| Strength | 1-6 | 6-10 |
Now to simplify things a bit, if you're just looking to get in shape and lose a bit of weight or you're a complete weightlifting beginner you should start using the Endurance/Beginner section.
As you progress, after 6-8 weeks you can then start using the Hypertrophy/Maintenance section.
If you've been training regularly and just would like to start something new then you could begin in the hypertrophy rep range.
A great tip is to change your rep range every now and again, for example I would sometimes be hitting the 8-12 rep range and then I'd go down to a 3-6 rep range for a few weeks.
---
Weightlifting Beginner Lesson 2 – Rest/Warming Up/Progression
Rest
Always have a day off between each session so your muscles have time to recover. I would recommend you complete your weight training programme every other day and do not more than 3 workouts per week.
Warming Up
Before starting your weightlifting beginner workout begin warming up for 5 minutes, this could be walking, cycling, running, skipping basically anything that will raise your heart rate and get the blood flowing to your muscles.
You will complete 3 sets for each movement; the first set of each movement will always be a warm up set using a lighter weight than the weight you'll use in your main sets. This will get the muscles you'll be using warm and ready.
Your remaining 2 sets will be your working sets. Complete your reps according to your rep/set ranges you have chose in the set/rep section
Progression
After two weeks (6 workouts) you should increase the number of sets to four (1 Warm up and 3 Main Sets) and maintain this for the first 6-8 weeks.
After the 6-8 week period its time to change your programme and choose a new exercise for each movement. You can also alter the amount of target reps you are doing.
Hopefully now you're starting to get the picture, after the 6-8 week programme has finished your body will need something new to adapt to so a slight change in reps and a new exercise will keep your body guessing and bring your goals closer.
An important tip to remember is, if you are still progressing with a certain exercise and you really enjoy it don't change it!
---
Weightlifting Beginner Lesson 3 – Choose A Goal, Tweak Your Diet
This routine can be used for bulking (building muscle) or cutting (losing fat), the main changes you should be making are not necessarily in your training, but in the kitchen.
My own training is consistent year round but my food intake changes when bulking or cutting. I've been training for quite a while now and I sometimes throw this workout in for a few weeks to shock my system and focus on each movement.
---
Weightlifting Beginner Lesson 4 – Exercise Form Tips
On two of the exercises (Bent Over Row/Stiff Leg Deadlift) I've stated you must use a bench so I thought I'd better go over these two to make sure you know what to do.
Barbell Bent Over Row
The barbell row is an exercise where you stand with your feet shoulder width apart with your knees slightly bent facing the barbell. Keeping a neutral spine, bend at the hips and lean forwards to grasp the bar while maintaining good posture.
Next you squeeze your core and pull the bar towards your midsection before slowly bringing it back to the bench where it rests.
The regular barbell bent over row has how picking up the barbell from the floor or a rack and you don't put it back until after the set. The purpose of using the rested bench technique between rests is so you can perfect your technique by using the bench as a safety point where the exercise will finish. You can perfect your technique without swinging your body or hurting yourself.
Stiff Leg Deadlift (SLDL)
With the Stiff leg deadlift you will basically do the same thing except you're not rowing the bar but picking it up until you're in an upright standing position. You then slowly lowering the bar keeping it close to your body and take it down to the bench with a neutral back position. You will you feel a nice stretch in your hamstrings.
Keep the bar on the bench for a few seconds then return to the standing position by following the same neutral, close to the body line, just in reverse.
Removing Your Training Wheels
After a few weeks when your technique is perfected you can remove the bench which will make both exercises harder but also more effective.
---
Return from Weightlifting Beginner to Free Workout Routines


Return to Free Workout Plans For Busy People