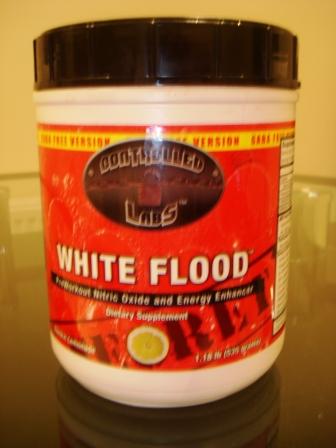 When Controlled Labs released White Flood a few years ago the feedback buzzing around message boards and forums was that it was a decent pre workout supplement.
I remember first heating of pre workout supplements and I was always sceptical, as sceptical as I am of any new supplement on the block.
Let's be honest, there are new supplements released every day but how many of them actually deliver what they claim.
Still, people were reporting increased focus in the gym, unlimited energy and even feeling stronger and lifting heavier poundage. In addition to this their muscles were remaining pumped after the gym for a few hours.
This sounded too good to be true so I gave in and decided to find out for myself and test and review as many pre workout supplements as possible in order to find the best one.
---
The first pre workout supplement I tried was controlled labs white flood. I read a lot of muscle message boards to keep up with what's going on and this kept being mentioned as recommended.
Although Controlled Lab's are an American company, I found a UK distributor easily enough and ordered a tub of White Flood.
The 535g tub of electric lemonade flavour cost me around £35.00 which is about the going price for a good tub of whey protein powder. I wondered if White Flood would give me the results the ever reliable whey protein gave me.
My first workout with White Flood was something I was actually looking forward to, I decided to test it on back and biceps day. I figured this was one odf my tougher workouts so I could do with the extra strength today!
Here's what I thought about…
The Results
Mixability

I used two scoops using the supplied spoon and mixed it with water in my shaker bottle, it mixed well and left no lumps f anything nasty at the bottom.
I later found out the shaker was a wise move as a mixing white flood in a glass with a fork doesn't work too well!
Smell/Taste

You can smell Controlled Labs White Flood as soon as you pop the lid; it's a sweet smelling crystallised dust that smells like sherbet. Once it's mixed it smells like sweet lemonade.
The first sip was that it was very sweet. Usually this means the ingredients that deliver the pumps, focus, strength etc taste pretty bad with water. The sweetness is the flavouring system which we'll take a look at later.
It tasted like lemonade without bubbles, I actually liked the taste and in the coming weeks until the tub ran out I looked forward to my pre workout drink!
Effects

Before the gym
It started doing its thing after about 20 minutes and on the way to the gym I was feeling energetic and a mild tingle around my body. I finished work late that day and was tired but I the energy and feeling of focus and clarity made me want to hit the gym.
At the gym
At the gym I selected some suitably aggressive music and went to work.
I felt stronger
I had more energy and drive
I lifted heavier weights and did more sets
My muscles looked pumped and full
After the gym
The pumps stuck around for about 4 hours, the energy died off and I didn't have any type of energy crash.
I had lifted bigger weights and completed more sets than normal. This extra effort involved was helped by White Flood; it got me working harder than I did the workout before.
Price


After getting through the whole tub I personally felt the price was reasonable. It delivered the things it said, pumps, energy, focus and drive so I was satisfied.
The price is £35.00 for a 535g tub which contains 50 servings. I workout 3-4 days a week and it lasted me about a month and a half.
Nutritional Info



Right off the tub itself:
INGREDIENTS: Natural and artificial lemonade flavor, acesulfame potassium, citric acid, silicon dioxide and sucralose.
Amount Per Serving % Daily Value
Calories 0
Calories from Fat 0
Potassium (as Gluconate) 36 mg 1%
Folate (as Folic Acid) 250 mcg 63%
Selenium (as Selenium Amino Acid Chelate) 100 mcg 143%
eNO Flood Complex:
Arginine Ethyl Ester Di-HCL (1700mg), Ornithine Ethyl Ester Di-HCL 2,500 mg **
FlooDurance Complex:
Beta Alanine (1700mg), L-Tyrosine 2,400 mg **
Energy & Antioxidant Flood Complex:
Inosine, Gamma-Amino-butyric (GABA), Glucuronolactone, Natural Caffeine, Potassium Gluconate, Cocoa Bean (Extracted for ((% Theobromine), Vanadyl Sulfate, Evodia Rutaecarpa (95% Evodiamine Extract), L-Norvaline, Sugar Cane (Extracted for 60% Octacosanol), Coenzyme Q10, Vinpocetine, Alpha-carotene, Zeaxanthin, Cryptoxanthin, Lutein, Folic Acid, Selenium, Huperzia Seratta (Extracted for 99% Huperzine A) 3,825 mg **
The best thing for me was it was compatible with a low carb diet as I was doing trying a ketogenic diet plan that allowed no carbs most days.
0 Calories
0 Fat
0 Carb
Overall


I was honestly surprised by controlled labs white flood and I would recommend you try it for yourself. As pre workout supplements go this is probably the best one I have come across yet.
Much better than myprotein.com's NO2 tablets or Met-RX's Amped which never lived up to white flood did.
I don't always use a pre workout supplement but when I do, I'm still yet to find a better pre workout supplement.
---
Return from My Review of Controlled Labs White Flood to Best Diet Supplements


Return to the homepage