Zero calorie food such as spices can be added to your diet to liven it up with and add new flavours to an otherwise bland experience!
I use them a lot of calorie free food to invigorate my recipes to make dieting a little easier and you can too!



My Top 10 Zero Calorie Foods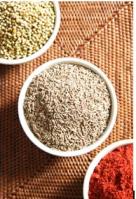 Herbs & Spices
Spices are an absolute godsend on any diet as they allow you to add serious flavour to any dish without additional calories!
Plain meat can become flavoursome, plain rice can get spicy and even omelettes can benefit from a sprinkling of herbs.
It's also interesting to note that a lot of herbs and spices also have additional health benefits to then. Chilli and Cayenne Pepper has a compound called capsaicin which has been proven to have fat burning effects.
Cinnamon has been shown to improve circulation as well as being anti-inflammatory.
The bottom line is they can do no harm, add them as much as you want and enjoy the flavours without guilt!



Lemon Juice
Whilst the juice of fresh lemons is better, the bottled variety can be used as a substitute when required. Lemon juice is high in vitamin C and I tend to add it to marinades and I pour it on top of fish and meat to add some zest!


Soy Sauce
Be careful with this one as not all brands of soy sauce are true zero calorie food. I personally use Soy Sauce Light which has practically zero calories, I use it to to noodles, vegetables and to marinade meat dishes.
Salsa
Salsa is rich in B vitamins due to the tomatoes it comes from, I add salsa to my salads, omlettes and even on the side of my main meals. It has powerful antioxidant properties that are good for your health too!
Vinegar
I add vinegar to my salads as a base for a dressing usually, although you can also make marinades using vinegar also. Vinegar has also been known to help keep your cholesterol levels in check.
Mustard
Mustard packs a powerful punch, just a few grams gives a lot of flavour and its been shown to aid digestion as well as speeding up your metabolism.
Coffee
As I'm sure you know, the primary compound in coffee is caffeine. Caffeine has been proved to speed up your metabolism and have powerful weight loss effects. Many people (myself included) supplement with caffeine and concur with the numerous studies into the benefits of caffeine.To keep it a zero calorie food (or drink…) it's best to drink it black, that said, many people don't like it black so my advice is add a touch of skimmed milk and its almost a zero calorie food!
Tea
Like coffee, tea has been shown to have a number of health benefits. Green tea is the best choice you can make although the majority of people prefer traditional white tea. Fret not, white tea has health benefits too, the only problem is they are diminished by adding milk to your brew!
To be honest I wouldn't worry, a little milk (skimmed) isn't going to cause you any problems so drink tea as much as you want.
Water
The original zero calorie food is water, its actually a negative calorie food as your body uses calories to digest it. Some people even drink ice cold water because the body uses calories to heat the water to body temperature. To be honest there is no real benefit to doing this as the additional calorie expenditure will be minimal!
There are numerous health benefits to water, far too many to mention in this article so we'll save that for another day. Just make sure you drink lots of water throughout the day, it can be tough if you've never done it before but once you start you'll find you get used to it.


Diet Soda
Diet soda's like Diet Coke and Coke Zero can be included in your diet as they are practically 0 calorie food, however, some people find their weight loss stalls when they drink too many. Judge for yourself, I personally don't recommend drinking diet soda as it's not exactly healthy, but I understand some people will want to. The bottom line…if you do want to drink soda then a zero calorie version is a better choice.
Enjoy these zero calorie foods, you've got nothing to lose and plenty of health benefits to be gained!



---
Return from Zero Calorie Food to Free Online Diet Plans


Return to the homepage