The best arm workout for natural trainees is very different to the workouts you see in the pages of muscle magazines!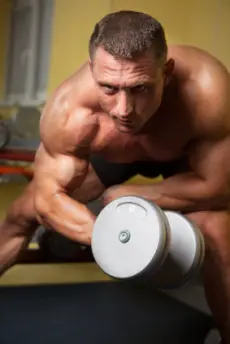 The reason for this is simple….the muscle magazines promote methods of training which are usually only effective for steroid users or those with amazing genetics.
If you're a mere mortal like me then you've probably realised that the magazine bicep workout plans haven't build the sleeve bursting arms you were promised.
In this article I'll explain how NATURAL trainees like you and me can build bigger arms quickly and easily. You'll then know EXACTLY what you need to do and you can take the next step to bigger arms today!
---
Planning Your Arm Assault!
Most people dive straight into workouts without thinking about what they're doing and this aimless approach is one of the reasons most people don't get the results they wanted.
The people who do actually do their homework and try to find the best arm workout are usually mislead by muscle magazines whose workout plans are ineffective for natural trainees.
The key to building bigger arms lies in these key principles:
The triceps are bigger than your biceps so you should focus on building them
Focus on compound exercises and try to get stronger in them each workout
Abandon the bodybuilding idea of multiple isolation exercises and multiple sets
These principles shape the strategy for the best arm workout you can get. Let's take a look at how the workout looks…
---
The Best Arm Workout For Your Goals!
Most people follow the same workout regardless of whether they're trying to build muscle or lose fat as they adjust their food intake instead.
It's true that you can only build muscle by eating more calories than you need to maintain your current weight. It's also true that you can only lose fat by eating fewer calories than you need to maintain your weight.
For this reason I personally always change the way I train depending on my goal and I set everything up to work towards that goal. I've never seen the value in doing extra work if it doesn't contribute to my goal.
Some people love training so they do more than they need to but I've never had the luxury of time so it's never been an option for me.
The best arm workout for you depends on whether you want to build muscle or lose fat.
So What's Your Goal?
---
Best Arm Workout For Building Muscle
If you want bigger arms than you've already got then you need to get your nutrition in order as no amount of arm training can build muscle out of thin air and wishful thinking.
Eat more calories than you need to maintain your weight and consume at least 1.25g of protein per pound of weight.
With your diet providing the nutrients and calories needed for growth you can focus on the best arm workout for muscle building.
The bicep exercises and tricep exercises in this workout routine will give you all the stimulation your muscles need.
For building muscle, natural trainees usually develop best hitting each muscle twice per week and this is how my arm workouts are structured.
Whilst you're hitting the same muscles each week the workout has you using different exercises which is good for variety and varying the muscle fibres being worked.
| Workout A |   |   |   |   |   |
| --- | --- | --- | --- | --- | --- |
| Muscle | Exercise | Sets | Reps | Rest | Notes |
|   |   |   |   |   |   |
| Biceps | Barbell Bicep Curl | 3 | 6 | 90 Secs |   |
| Tricep | Tricep Dips | 3 | 6 | 90 Secs | Bodyweight or weighted |
| Biceps | Dumbbell Hammer Curl | 2 | 12 | 60 Secs |   |
| Triceps | Tricep Pressdown | 2 | 12 | 60 Secs | |
| Workout B |   |   |   |   |   |
| --- | --- | --- | --- | --- | --- |
| Muscle | Exercise | Sets | Reps | Rest | Notes |
|   |   |   |   |   |   |
| Biceps | Dumbbell Bicep Curl | 3 | 8 | 90 Secs |   |
| Tricep | Close Grip Bench Press | 3 | 6 | 90 Secs |   |
| Biceps | Barbell Preacher Curl | 2 | 12 | 60 Secs | Close Grip |
| Triceps | Overhead Extension | 2 | 12 | 60 Secs | |
Best Arm Workout For Fat Loss
During fat loss where you can only lose fat and maintain muscle you don't need to do direct bicep work.
Heavy compound movements should be your focus and if you're going heavy enough your biceps will get plenty of work!
You have less energy when dieting and your focus should be on maintaining strength. Losing strength means you're losing muscle and it's a big red flag that something's wrong.
My advice is to focus all available energy on maintaining strength therefore I choose the big 3 exercises (deadlift, squat, bench press) and I try to get stronger or at least maintain strength in them.
In throw in a handful of assistance exercises but never train biceps directly as they don't need it. I do weighted chin ups with 45lb + hanging from my waist which works my biceps hard!
If you really cannot live without pumping your biceps then feel free to do a few sets at the end of your workout. Just don't allow it to become excessive and eat into your recovery or sap your strength!
To see the exact workout routine I use while dieting to maintain muscle without direct bicep training check out my 3day workout routine.
---
Return from Best Arm Workout to Bicep Exercises


Return from Best Arm Workout to Tricep Exercises


Return to Free Workout Plans For Busy People