This fat burning workout plan is a quick, effective way for busy people to lose fat and get lean without becoming a slave to the gym!
In just three 45 minute workouts a week, this routine delivered the six pack abs I'd never been able to get!
I can't train with you, but I can share with you my workout plan and everything you need to know to make it work for you!
With this workout routine in your locker you'll be able to…
Avoid The Single Biggest Mistake Dieters Make Which Eats Time and Kills Results!
Workout LESS and Get BETTER Results
Get in-and-Out of The Gym Quickly
Know The Exercises You're Doing are The Most Effective For Fat Loss
---
A Step Back Before a Giant Leap Forwards!
This is the final article in the series which help busy people like you find their workout-life balance!
Before we delve into your new 3 day workout plan, it's worth us recapping on what we learned in the previous articles. You can either read them now or if you're short on time, skip them and go back to them at your leisure.
Part One
In
Free Workout Schedule Busy Executives Can Use To Lose Fat Fast!
we identified a number of strategies for busy people who need their workout to deliver maximum results in the minimum time.
The strategies were:
Identify the tasks that have the highest impact
Focus on those tasks exclusively
Block outside "noise" which distracts you from the identified tasks
Part Two
In
Cut Exercise Frequency and Get Lean Working Out Less!
I explained how having less time to workout is actually better for the vast majority of dieters.
We also established the specific goals your workouts should focus on to ensure results despite the limited time invested.
Part Three
In In
Reducing Workout Frequency To Lose Fat and Maintain Muscle!
we learned which exercise are simply "noise" that distract you from the high impact actions you should be focussing on.
Using the 4 easy steps provided, you were able to declutter your workout and ensure it's optimised for fast fat loss!
Which brings us onto this final chapter in this series…
---
How This Fat Burning Workout Plan Can Deliver Fast Results!
I workout using this fat burning workout plan every week, usually I work out twice in the evening and then before work on Friday morning.
I've found that by following this simple program I've been able to keep getting stronger while getting leaner which is a sure sign I'm not losing muscle.
When I've tried to get lean in the past I've always lost muscle because I was overtraining and doing too much cardio. I used to follow bodybuilding workout plans that had me trying to "confuse" my muscles and do excessive aerobic training while eating a low calorie diet.
Now I know better I plan on using this model as the basis for all of my future workout routines when trying to drop bodyfat.
My Results Using This Fat Burning Workout Plan
In order to measure the success of a diet or workout plan it's important to have clearly defined goals.
In
Reducing Workout Frequency To Lose Fat and Maintain Muscle
we listed 4 goals that your fat loss workout should help you meet:
Lose Fat
Maintain Muscle
Reduce Workout Frequency
Reduce Workout Volume
The goals listed are where your routine should take you, there is another goal which is so important it needs singling out as if you don't meet it you won't achieve any of the 4 outlined above.
Did your workout program work around your schedule?
Here's how I did….
Did I lose body fat?
Over the 10 months I went from 21% body fat down to around 10%.Obviously diet is the primary instigator of the fat loss, but my training played a key part in helping me keep my muscle.
I did very little cardio during this period aside from a little social football (soccer) although as I'm a goalkeeper the level of effort is less than outfield players so I'm convinced my diet/weight training schedule was the driving force.
For the first 8 months my training was retarded, too many sets, too much volume but as I was in a calorie deficit I kept losing weight. The problem was I was losing weight but not getting leaner which suggested I was losing muscle too.
After reading Beyond Brawn (great book by the way) I convinced myself to try working out less and see what happened. What you're seeing below is my results over 8 weeks of training using the fat burning workout plan I'm about to share with you.
Did I lose body fat? – Yes
Did I maintain muscle – Yes
Did it work around my schedule? – Yes
The pictures below are taken just 8 weeks apart, during which I consistently worked out 3 days per week except for one week when I had a lot of travelling to do at work.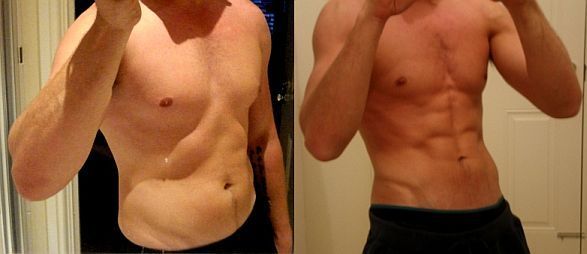 Did I maintain/gain strength? – Yes
Here's a graph showing my strength gains over 8 weeks, I focussed on the six most important exercises and made sure I got stronger in these each week.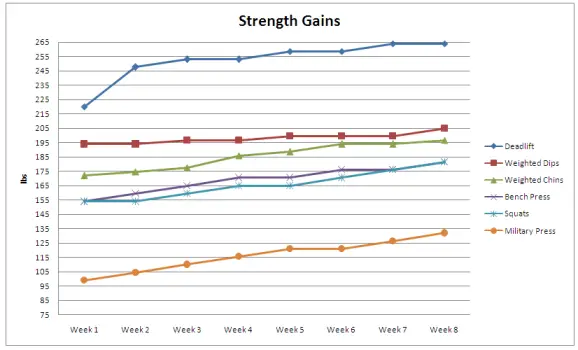 Some weeks I didn't get any stronger but things usually picked up again the following week. It was also interesting to note how lack of sleep/stress at work affected my strength as I was always stronger when everything else in my life was in control.
I gained strength in every exercise, some more than others, this table shows you the weight's I was lifting. They might not be very heavy to look at but they certainly did the job.

An overall strength increase of 17%!
Bearing in mind during dieting you usually only maintain your strength I was very pleased how the poundage's held up!
Overall, I put a tick in all the boxes I needed and I'm sure you will get the same results I did if you stick to the program consistently.
Ready to get started?
---
Download the Exact Fat Burning Workout Plan I Used To Get These Results!
This is the exact workout plan I used to shed body fat and maintain muscle while working out less than ever!
In this article I'll talk you through the workout step-by-step and you can download the workout plan too!
I'll give you everything you need to know to ensure your workouts are productive but short!
It's a perfect workout for busy people who want to lose fat fast!
Take Me To The 3Day Workout Routine Now!


---
Return from Fat Burning Workout Plan to Free Workout Routines


Return from Fat Burning Workout Plan to the Homepage