Hemo Rage Black Ultra Concentrate is the stronger version of Nutrex's original Hemo Rage Black and it's marketed as the strongest and best pre workout supplement on the market.
This "Underground Pre Workout Detonator" claims to deliver explosive energy, pumps, strength and all the usual effects other pre workout supplements offer.
I wanted to see if it could compete with White Flood and Jack3d as the best pre workout supplements, I got my hands on a free sample of Brusin' Berry and I completed a leg workout.
The results were better than I expected and this pre workout supplement was much better than the majority of other pre workout supplements I've tried.
It still didn't beat Controlled Labs White Flood as my number one supplement or Jack3d at number two but it was close behind!
---
Mixability – 5/5
I mixed Hemo Rage Black Ultra Concentrate with 4-5 oz of water (approx 150ml) and it mixed very well with no lumps or product stuck to the bottom.
Taste – 3/5
Upon tearing the top off my sample sachet I immediately noticed the powder was a mint green colour, odd as I expected Brusin' Berry to be blue or purple.
When you pour the sachet into your shaker a fine dust comes out of the top like wisps of smoke and the smell is artificially sweet but not unpleasant.
The berry flavour tasted good, kind of like a watery berry/watermelon flavour.
You could taste sweeteners masking the bitterness of ingredients such as creatine but this didn't make drinking it unpleasant.
Straight after drinking it my saliva was thick and sticky and you could blow bubble. A quick sip of water got rid of it.
Brusin' Berry
Malicious Melon
Sucker Punch (Fruit Punch)
The Workout
I decided to try Hemo Rage Black Ultra Concentrate on leg day as it's usually a workout I'm not particularly excited about.
Still, I had new personal bests I needed to get and I figured if Black Ultra Concentrate was so strong it would help me get them.
I drank it 30 minutes before my workout as directed and after 20 minutes I started feeling the effects.
Here's how it performed in each of the key areas:
Side Effects – 2/5
The first thing I noticed was a tingle in the top of my ears which lasted around 5 minutes; this was due to the Beta Alanine which causes this to happen.
I had no stomach cramps and there was no crash after the workout which some pre workout supplements can cause.
I did however, feel a bit of nausea after the workout and this seems to be a common side effect from the feedback I've received. It could be that you're pushing your workouts to the limit which can cause nausea alone or it could be a side effect of Hemo Rage; I'm not sure which but it's worth noting anyway.
This nausea could be down to Huperzine A which has been known to have this affect.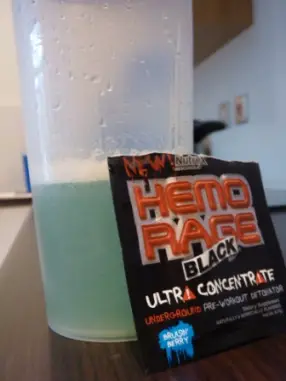 Energy – 5/5
I felt a surge of energy and I couldn't wait to start my workout which I began with heavy deadlifts. I felt very energetic and motivated to train. Some pre workout supplements make you feel like you're on a sugar rush or some kind of drug high but this supplement delivered clean energy throughout.
Focus/Drive – 3/5
My focus was good and I concentrated on each rep, however, this product doesn't compare to Jack3d and White Flood when it comes to focus and drive to lift.
Pumps/Vascularity – 2/5
As I was doing a lower body workout it's hard to assess the pumps but my lower back was definitely pumped after a few sets of heavy deadlifts. The common consensus about Hemo Rage Black Ultra Concentrated is that it doesn't deliver the same level of pumps as other pre workout supplements.
Whilst I'm sure everyone likes coming out of the gym pumped up, it has no bearing on muscle growth so I'm not particularly interested in pumps. Provided I get the energy to take my workouts to the next level every workout that's good enough for me and is most likely to help my muscles grow.
Strength/Endurance – 4/5
This supplement definitely increased my strength as I was able to do more reps with heavier weight than my previous personal bests. Just the week before I'd struggled to leg press 325 for 3 sets of 12 but today I went to 330 and knocked out all 3 sets without much trouble.
The same thing happened in the deadlift, calf raises and lying leg curls.
Price/Value – 5/5
Compared to other pre workout supplements this product is fairly well priced at around £25.00 – £30.00 in the UK and about the same is US dollars.
In return you get a 294g (10.37 oz) tub which delivers 90 servings and as you only ever need one scoop that's 90 workouts. Great value for money from Nutrex!
Ingredients
I like the fact that like Jack3d, Hemo Rage Black Ultra Concentrate isn't packed with hundreds of ingredients just to make it look like the products worth more.
The ingredient list is as follows:
Sodium:Chloride:
Hemo Rage Black Ultra Concentrate Proprietary Blend – 6,870.1 mg
Creatine Monohydrate
Arginine Alpha Ketoglutarate
CarnoSyn Beta Alanine
Taurine
Caffeine Anhydrous
Methylhexaneamime
Huperzine A
Other Ingredients:
Natural and artificial flavours, Citric acid, Xanthan gum, Acesulfame-K, Sucralose, Silicon dioxide, FDC&C Blue 1
Overall – 4/5
If you are not tolerant to stimulants you may want to try something less intense like No-Xplode, Super Pump 250 or Universal Animal Rage for clean energy without the side effects.
If like me tolerate stimulants well and want a crazy energy surge to take your workouts to the next level then Hemo Rage Black Ultra Concentrate is a good product.
---
Buy Hemo Rage!
Bodybuilding.com stock Hemo Rage at a great price and they are a solid company so your money is safe.