by Skye
(Free Workout Plans For Busy People HQ)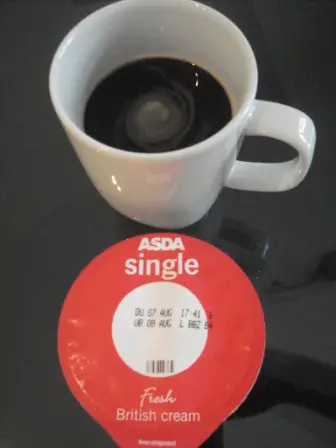 Keto coffee is an easy way for busy people to add some fatty goodness to their daily coffee, it also tastes awesome and you'll struggle to go back to regular coffee after!
I work in an office and like most of my breed we drink a lot of coffee! Probably something to do with early mornings and late nights without much sleep in between!
I didn't want to give up coffee, after all, caffeine is a great for people dieting as I discussed in Caffeine Effects On The Human Body so I wanted to find a way to make it keto friendly.
Milk was definitely out due to lactose being a sugar. I could have drank black coffee but I wanted an alternative besides full fat milk.
The answer was cream, either single or double depending on your taste. It added a few grams of fat to my coffee plus it tasted amazing! A nice creamy coffee doesn't feel like diet food!
How Long Does it Take To Make?
As long as a regular cup.
Preparation Time: 0 mins
Cooking Time: However long your kettle takes to boil!
Nutritional Breakdown
The nutritional breakdown depends on the type of cream you use and how much which will differ depending on your taste.
Ingredients Required
Coffee of your choice
Cream (single or double)
---
Instructions
No instructions needed for this ketogenic diet recipe, simply boil the kettle, add hot water to coffee and add cream to taste.
Serve and Enjoy!
A quick note on Sweeteners
Even if you like something sweet in your coffee, try it without any sweetener as the extra fat from the cream kills sweet cravings dead!
If you still need a little sweetness then add Stevia which is a natural sweetener from a South American plant. This means no extra calories or carbs. If you insist on using Splenda or a similar sweetener use it sparingly as every gram counts as a gram of carbs.
Keep Splenda use under 5g per day so you don?t knock yourself out of ketosis.
See More Great Ketogenic Diet Recipes