by Jay Johnson
(Mechanicsville, Va)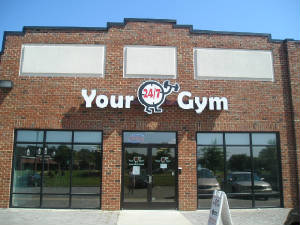 Your 24/7 Gym
Address:
7610 left Flank Road
Mechanicsville
Virginia
23116
Contact Telephone Number: 804-559-0284
Email Address: [email protected]
Website URL: www.your247gym.com
About Your 24/7 Gym
Your 24/7 Gym is an open 24/7 clean, safe, secure private workout facility with a range of equipment such as Cybex Cardio, VR3 Strength Machines and free weights.
We are a small local gym for those people that want to work out in private and at their convenience; it's just like having your own gym!
Our instructors will help as much or as little as you would like and we are here to help you achieve your fitness goals.
If you're on business in the area or just looking for a friendly local place to workout whenever your schedule allows then our gym is the perfect place!
Visit our website to view more images of our gym and then come and see us in person, you'll be guaranteed the best, most well equipped, clean and convenient workout facility in this area!
Need To Use The Gym While In Town?
Non-members can pay a fee per session (during staffed hours) which means they can use the facilities without having to be a member of Your 24/7 Gym.
When is Your 24/7 Gym Staffed?
Whilst Your 24/7 Gym is a 24 hour gym, it is only staffed during the following hours:
Monday: 09:00 – 12:00, 16:00 – 20:00
Tuesday: 14:00 – 19:00
Wednesday: 09:00 – 12:00, 16:00 – 20:00
Thursday: 14:00 – 19:00
Friday: 09:00 – 18:00
Saturday: Call or email for appointment
Sunday: Unstaffed
Meet The Your 24/7 Gym Team
There's a strong family focus at Your 24/7 Gym and this is reflected in the team that work here:
Jay Johnson – Owner/Personal Trainer
Jay Johnson Jr – Employee
Jennifer Johnson – Employee
Andrew Lee – Personal Trainer
Contact us today and come visit us soon!
Yours,
The Your 24/7 Gym Team